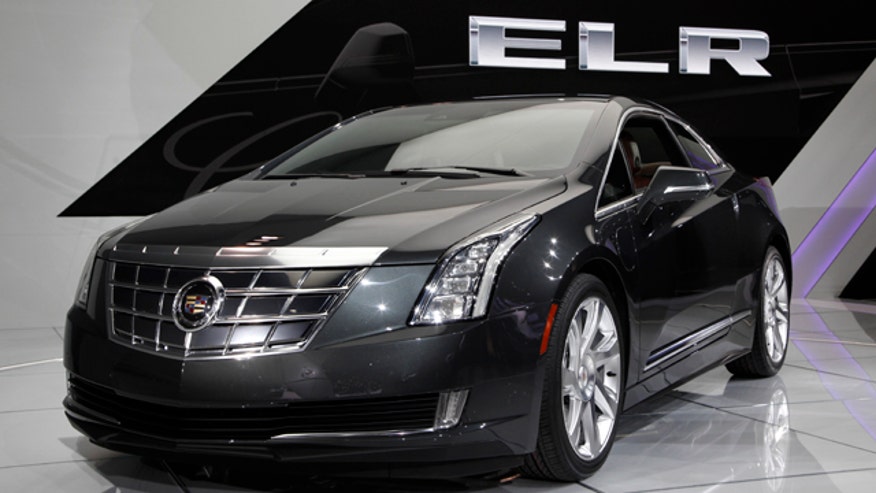 Someone gave the Chevy Volt a tuxedo, and it fits well.
The Cadillac ELR coupe is the luxury automaker's take on extended range electric vehicle, and its first ever hybrid car.
The dramatic two-door is wider than the Volt and dressed in a slightly toned down version of the sharply creased, broad shouldered bodywork seen on the Cadillac CTS coupe. It rides on turbine-look 20-inch wheels and features vertical head and brake light clusters, the latter with a slight tailfin design.
Like the Volt, the ELR is powered by a combination of an electric drive unit and 1.4-liter internal combustion engine. With a 16.5 Kilowatt-hour battery pack, Cadillac says it can go up to 35 miles on electricity alone before needing the gasoline motor to kick in to generate power for longer trips.
The ELR comes standard with an active suspension system for a smoother ride and improved handling. It has a 2+2 seating arrangement, and an interior draped in layers of leather offset by real wood and metallic trims. An all-digital instrument cluster and Cadillac's touchscreen CUE infotainment system are standard, as is a power assisted cupholder cover in the center console.
Cadillac isn't predicting how many ELRs it expects to sell, but says the car will be a "specialized offering produced in limited numbers."
Pricing has not been announced, but the CUE is expected to command a substantial premium over the $39,995 Volt when it goes on sale in early 2014.