Wrongdoing denied in restraint of British soldier murder accused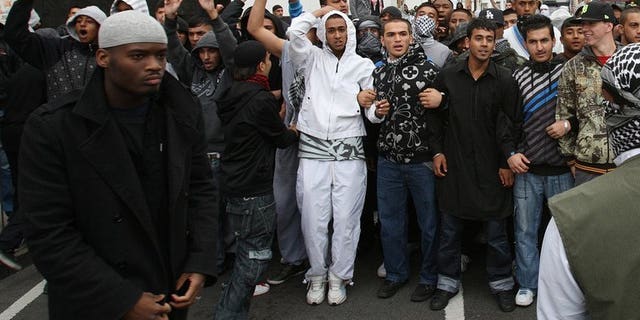 LONDON (AFP) – Prison officers "strenuously deny any wrongdoing," their union said Friday, after a suspected killer of a British soldier on a London street reportedly lost two teeth when being restrained in jail.
British media reported that Michael Adebolajo, 28, had two front teeth knocked out during the incident at London's high-security Belmarsh prison on Wednesday.
The police said they were investigating an assault allegation.
Adebolajo and his co-accused, Michael Adebowale, 22, both Muslim converts of Nigerian descent, are accused of hacking Lee Rigby to death in Woolwich, southeast London, on May 22.
The Prison Officers' Association said it expected its members to be "fully exonerated."
"The POA are aware of an incident that took place on Wednesday July 17, which involved a prisoner being subjected to restraint using approved techniques called control and restraint," it said.
"Our members strenuously deny any wrongdoing and the POA will be supporting them legally and emotionally during this difficult time. The use of restraint is only used where necessary when dealing with incidents."
It said it would fully cooperate with any police investigation.
A spokesman for London's police force said they were investigating.
"We can confirm that an allegation of assault was passed to the Metropolitan Police Service on July 17 by Belmarsh prison. An investigation has been started," he said.
The Prison Service refused to go into details of the incident.
"It would be inappropriate to comment while the investigation is ongoing," it said.
Adebolajo and Adebowale are being held in custody before standing trial at England's Old Bailey central criminal court on November 18, accused of Rigby's murder.
Adebolajo is further charged with the attempted murder of two police officers, and both men are charged with possession of a firearm.
An inquest into Rigby's death was opened and adjourned to allow counter-terror police to continue their investigation.
British Prime Minister David Cameron and London Mayor Boris Johnson joined thousands of mourners at Rigby's funeral on July 12.