Wounded vet who got free house: 'We still feel like we are in somebody else's home'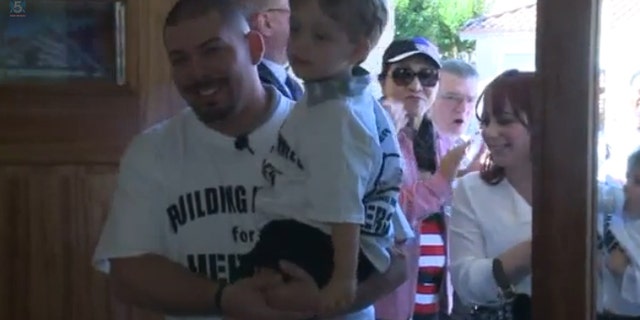 NEWYou can now listen to Fox News articles!
SAN MARCOS, Calif. – A wounded war veteran in San Marcos, California celebrated Veterans Day last Saturday with a street parade in his honor and the official handover of a brand new home for him and his growing family.
U.S. Marine Sergeant Joshua Lopez told Fox News Latino he has no words to express his gratitude for the gift, which is mortgage-free and custom-made to meet his needs.
Lopez was severely injured in Afghanistan when he stepped on an improvised explosive device in 2012. Both his legs were hurt, the right one was amputated and his right hand was wounded in the blast.
Lopez, 25, is of Mexican descent and is married to Jennifer Lopez, a Salvadoran.
They have two small boys and can't wait to start this new chapter of their lives. In fact, even though they are still in the process of moving in, they started living in the spacious three-bedroom house on the very Saturday it was handed over to them.
"It almost feels like we are staying in somebody else's house," he told Fox News Latino.
For the past two years, the family practically lived at Walter Reed Hospital in Bethesda, Maryland.
Sgt. Lopez knew he was getting the home, which was made possible by the non-profit organization Building Homes for Heroes, but he did not know that he would be given the key to his new abode amid all the fanfare of a parade just for him.
"We are still digesting," he said. "Everything in the house is designed for me to be in," he added, happily awed.
The house is equipped with more than $200,000 worth of upgrades customized to fit his special needs. One feature brought tears to his Lopez's eyes.
"I have tinnitus in both of my ears, so he sound of the waterfall is going to help out a lot more," Lopez told myfox5.
And then there is a roomy shower, and the prospect of having full mobility on the first floor.
"I'm in a wheelchair most of the time, so being able to have functionality of my home is the biggest thing for me," he said. "We could thank you all day long, every day for the rest of our lives and it still wouldn't be enough."
For more California stories, go to fox5sandiego.com.