North Korea's 'Hotel of Doom,' world's tallest empty hotel, lights up with state propaganda
North Korea's towering but perennially empty "Hotel of Doom" is finally getting some use — just not by any guests.
The exterior of the Ryugyong Hotel that's been towering over Pyongyang since 1987 has been lighting up every night with North Korean propaganda, despite remaining empty and incomplete for all these years. The 105-story building began displaying the propaganda in April to mark the birthday of Kim Il Sung, current leader Kim Jong Un's grandfather and the country's "eternal president."
For several hours each night, the building, which doesn't have electricity inside of it, becomes the backdrop of a massive light show in which more than 100,000 LEDs flash images of famous statues and monuments, bursts of fireworks, party symbols and political slogans.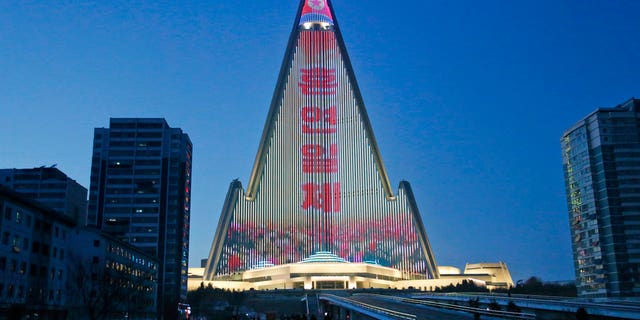 "I feel really proud," Kim Yong Il, the vice department director of the Korean Light Decoration Center, told The Associated Press. "I made this magnificent design for this gigantic building and when people see it, it makes them feel good. It makes me proud to work as a designer."
CLICK HERE TO GET THE FOX NEWS APP
Kim, who was in charge of designing and programming the lighting display, said it took five months to prepare it. One side of the 1,083-feet tower shows a four-minute program that touches on North Korea's history, displays homages to ideals such as self-reliance and revolutionary spirit and then flashes a procession of 17 political slogans, such as "single-minded unity," ''harmonious whole" and "100 battles, 100 victories."
The two other sides are filled with alternate images, while the conical section at the very top displays an image of the North Korean flag.
"The whole program can be stored on an SD card and put into the controller," Kim said. "We can do the diagnostics on a laptop."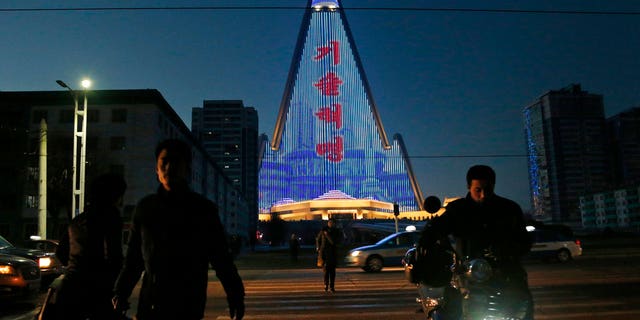 'HOTEL OF DOOM' IN NORTH KOREA UNVEILED AFTER DECADES OF SETBACKS
The pyramid-shaped landmark remained an embarrassing concrete shell in the Hermit Kingdom for more than a decade until Egypt's Orascom Group — which was also key in establishing the North's cellphone system — helped pay for work to complete the building's shiny exterior in 2011. Kim Il Sung initially ordered for the hotel to be built in preparation for the 13th World Festival of Youth and Students the country held in 1989.
By the 1990s, North Korea's economy was in shambles and the nation was grappling with famine. The country had no funds to keep construction going, putting a halt to the leader's pet project.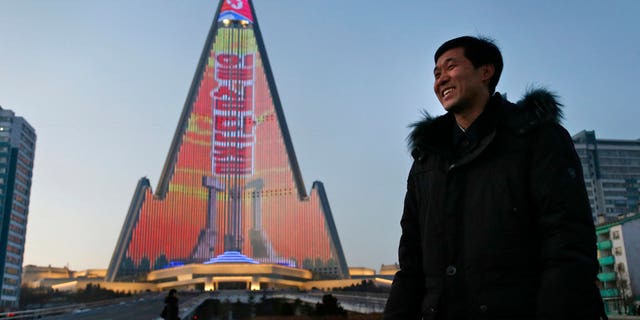 The official opening date of the hotel still remains a mystery. After years of false hope, the completion may still be several more years away. Rumors that the hotel might open this year began in December 2016 — when video surfaced showing lights toward the top of the structure.
Construction projects have been a major item on Kim Jong Un's agenda. Several major high-rise areas have been completed since Kim took power in 2011 when his father died.
The Associated Press contributed to this report.