World's Most-Wanted Cartel Leader To Face Justice In Mexico; U.S. Extradition Unlikely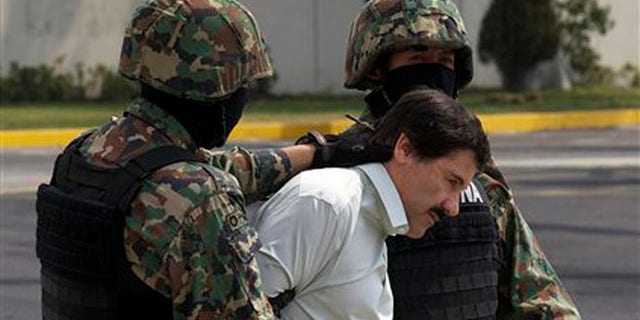 MEXICO CITY (AP) – Joaquin "El Chapo" Guzmán appears set to remain in Mexico's highest-security prison for the foreseeable future, as the government puts off U.S. extradition in a move that could bolster President Enrique Pena Nieto's nationalist credentials but also shine a spotlight on the country's woeful judicial system.
Experts say Pena Nieto's administration and those of his predecessors have proven unable to match headline-grabbing arrests like Guzmán's with complex, long-term investigations and prosecutions of deep-rooted criminal networks. Cases have stalled and cartels have continued to operate. Last year, one of Guzmán's closest allies walked out of the prison where the U.S. said he was running drugs from behind bars.
The Mexican government said there is no way Guzmán will repeat the 2001 escape that let him roam western Mexico for 13 years as he moved billions of dollars of cocaine, methamphetamine and heroin around the world. Authorities here said they want to be the first to interrogate Guzmán, and use the information to dismantle his Sinaloa cartel, a multibillion-dollar enterprise that dominates drug trafficking in much of Mexico and stretches into 54 countries.
Two federal judges ruled Tuesday that Guzmán will have to stand trial on separate drug-trafficking and organized-crime charges in Mexico. Pena Nieto's administration said the man widely considered the world's most-powerful drug lord until his capture Saturday will face at least six other pending criminal cases before it even considers extraditing him to the U.S.
"I don't think it's going to happen anytime soon," Attorney General Jesus Murillo Karam said in a radio interview. "This is the start of a full investigation that will allow us to fully eradicate his organization. It would be pointless to do anything else."
Experts on both sides of the border warned that keeping Guzmán in Mexican hands could squander the opportunity to exploit his unparalleled knowledge of the country's biggest drug cartel. U.S. prosecutors have proven far more capable of offering captured drug lords the incentives to cooperate with law enforcement, experts said.
U.S. officials routinely use family members as tools to pressure defendants into giving up information, granting visas to relatives of cooperative prisoners while threatening to leave loved ones penniless by freezing assets of drug lords who refuse to play ball.
Mexican authorities arrested Guzmán, 56, along with his 20-something former beauty-queen wife and twin toddlers, but let her go because there were no charges pending against her. Observers called it a staggering missed opportunity that wouldn't have occurred in the U.S.
"The U.S. attorneys have many tools. They're pretty good at flipping people. They can offer far more things than the Mexican authorities can offer," said Alejandro Hope, a security analyst and former official in Mexico's domestic intelligence service.
One of Guzmán's closest allies and mentors, Rafael Caro Quintero, walked out of a federal prison in August after a procedural ruling that cut 12 years off a 40-year sentence for killings that included the murder of U.S. Drug Enforcement Administration agent Enrique "Kiki" Camarena. A three-judge federal appeals court in the western state of Jalisco found that he should have been tried in state court, not federal, and vacated his sentence in a ruling widely seen by Mexican and U.S. officials as inexplicable and likely corrupt.
Months earlier, the U.S. Treasury Department blacklisted more than two dozen people and companies that belonged to what it called a drug-running and money-laundering network that Caro Quintero ran years from behind bars.
A U.S. law enforcement official familiar with the investigation said Caro Quintero, who has not reappeared in public since his release, was passing orders through prison phone calls as well as lawyers and family members who visited him, even as he was shifted between at least three Mexican prisons.
U.S. investigations found a number of upper-tier traffickers have been similarly able to run cartels from behind bars.
"Even without telephone communications you can transmit a lot of instructions that then are followed," said the U.S. official, who agreed to discuss the matter only on condition of anonymity because he wasn't authorized to speak publicly.
David Weinstein, a former assistant U.S. attorney in Miami, said the biggest concern in keeping Guzmán in a Mexican prison will be his ability to continue running his global drug empire.
"It could be argued that he would be doing the same thing from a jail, and just bide his time," said Weinstein who previously ran the narcotics section in Miami.
Mexico arrested another of the country's most-wanted men, Zetas cartel head Miguel Angel Treviño Morales, in July, but members of his organization continue to carry out murders, extortion, rapes, robberies and extensive thefts from Mexico's state-run oil company across a wide swath of eastern Mexico, said George Grayson, an expert on the cartel at College of William & Mary in Virginia.
"The sadistic violence continues, and the theft of explosives and chemicals continues," he said.
Keeping hold of Guzmán appears to have become a point of national pride Mexico.
"We think he's being perfectly guarded and watched, and we don't think it's necessary to do anything else," Interior Minister Miguel Angel Osorio Chong, the country's highest law-enforcement official, told The Associated Press. "He will be very isolated. He won't be allowed to continue with his operations."
Follow us on twitter.com/foxnewslatino
Like us at facebook.com/foxnewslatino