Woman refuses to sit down on flight in effort to stop man's deportation to Afghanistan, dramatic video shows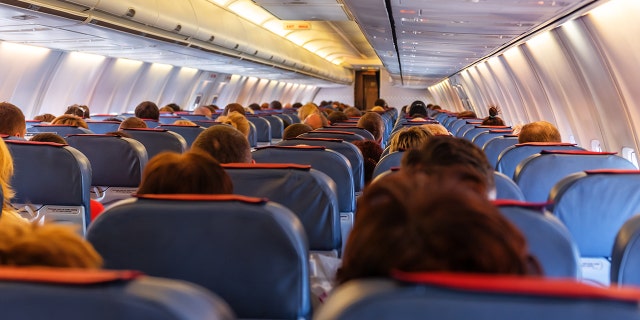 A Swedish woman live-streamed her dramatic efforts to stop an asylum seeker from being deported to Afghanistan, refusing to sit down as their flight prepared to leave and leading authorities to escort both her and the man from the plane.
Elin Ersson, 21, a student at the University of Gothenburg, broadcast her attempt to stop a flight from Gothenburg to Turkey on Monday. Ersson and other asylum activists discovered a 52-year-old Afghan man on the flight was being deported to Kabul, Afghanistan, Deutsche Well reported.
The student started her live-stream as soon as she got on the plane. The video had been viewed more than 2.5 million times as of Wednesday morning. Ersson said she would not take her seat until the asylum seeker was removed from the flight, saying the man would most likely be killed in Afghanistan.
A steward asked her to turn off her phone, but Ersson refused.
"I am doing what I can to save a person's life. As long as a person is standing up the pilot cannot take off," she said. "All I want to do is stop the deportation and then I will comply with the rules here. This is all perfectly legal and I have not committed a crime."
JAILED AMERICAN PASTOR ON TRIAL IN TURKEY TRANSFERRED TO HOUSE ARREST
Ersson received backlash from several passengers, including a man who told her to turn off her phone because it was upsetting people. The man attempted to take her phone but a flight attendant was able to retrieve the device and return it to Ersson. Another man, heard off camera, told Ersson that it's her country's rule she's protesting. She replied she was "trying to change the rules."
"It's not right to send people to hell," Ersson told the passenger.
The student said a few people were applauding her effort, including a Turkish man who said she was "doing the right thing."
"It felt good, when the Turkish guy started talking to me and making sure that I knew I wasn't alone," Ersson said. "It felt really good. He was saying what I was doing was right."
Later in the video, Ersson said she witnessed the Afghan man's bags being cleared. The asylum seeker was removed from the plane, according to Swedavia, the company that runs the Landvetter Airport in Gothenberg.
Deutsche Well reported Ersson was also removed from the plane by airport security.
ISIS CLAIMS TORONTO SHOOTING AS PROBE REPORTEDLY FINDS GUNMAN VISITED TERROR WEBSITES, LIVED IN MIDDLE EAST
Local media reported the asylum seeker had vanished, but Deutsche Welle reported he was in custody and scheduled to be deported at another time.