Witnesses Hear Russian Airport Suicide Bomber Yell 'I'll Kill You All!'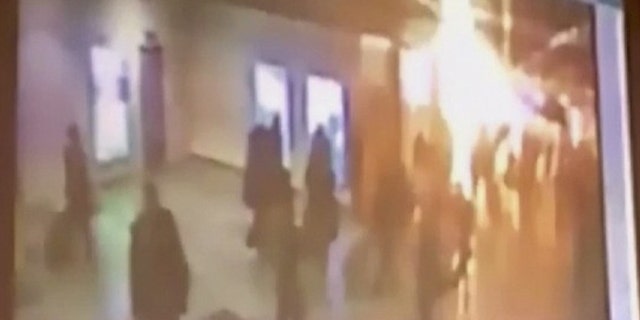 Witnesses in the deadly bombing at Moscow's Domodedova Airport that claimed the lives of 35 people and injured nearly 200 others say the suicide bomber shouted "I'll kill you all!" before detonating the explosives, according to The Guardian.
Driver Artyom Zhilenkov said he was standing just a few yards away from a man who may have been the suicide bomber. He saw an explosion on or near the man, whose suitcase was on fire.
"There were shouts and screams and those who could move picked themselves up and ran away. Then I returned and a few of us loaded the injured onto luggage trolleys and took them to the airport's medical station. I carried a man who had lost a leg and then a woman with wounded legs. It was horrifying," Zhilenkov told the British paper.
Russian authorities believe that a man and a woman -- known as a Black Widow -- detonated the bomb at the airport.
"The terror attack was carried out according to a scheme that is used by terrorists from the north Caucasus region. The blasts at the Rizhskaya subway station and other explosions in the Moscow metro were carried out similarly, when the terrorists were accompanied by militants," a Russian official told The Guardian.
Russian authorities tell AFP that the severed head of the suspected suicide bomber was found.
"We found the head of a man of Arab appearance, aged 30 to 35," a law enforcement official told AFP.
Officials are also searching for three others who may be connected with the bombing.
Prime Minister Vladimir Putin says there will be payback for the bombing, vowing "retribution is inevitable."
Russian President Dmitry Medvedev ripped into officials of the Moscow airport Tuesday, saying they must bear responsibility for security failures there, but airport management contend Russian transport police were in charge.
The finger-pointing could further undermine confidence in Russia's security as Medvedev prepares for an appearance at the high-profile World Economic Forum in Davos, Switzerland, to try to attract investors.
No claims of responsibility for the blast have been issued, although Islamic militants in the southern Russian region of Chechnya have been blamed for previous attacks in Moscow, including a double suicide bombing on the capital's subway system in March 2010 that resulted in 40 deaths. If Monday's attack was by Chechen insurgents, it could indicate an ominous new strategy because unlike previous attacks, it targeted an area where foreign citizens were likely to be victims.
After the blast, Medvedev postponed his departure for the Davos forum, where he is to be the main speaker at the opening session on Wednesday. The Kremlin said he still plans to go, but his itinerary has not been finalized.
Russia's attractiveness for investors already had been shaken in December when ex-oil tycoon Mikhail Khodorkovsky was sentenced to six more years in prison. Khodorkovsky has been jailed since 2003 in a case that critics say is political revenge for his support of opposition politicians.
Medvedev, often seen as a comparatively weak leader subsidiary to Prime Minister Vladimir Putin, aimed to assert strength after the blast by calling for management of the capital's biggest airport to be held accountable for security lapses.
"What happened shows that obviously there were violations in guaranteeing security. And it should be answered for by those who make decisions there and by the management of the airport," he said in comments released by the Kremlin on Tuesday.
The blast took place in the international arrivals area, where people without tickets can meet passengers.
An airport spokesman, Sergei Martirosian, told the Interfax news agency Tuesday that inspection of people coming into the arrivals area is the responsibility of transport police "and not our security service."
Medvedev's criticism of airport security echoed an official of the National Anti-Terrorist Committee, Nikolai Sintsov, who said on state television that "the security measures at Domodedovo were insufficient, otherwise nothing would have happened," adding that some metal detectors were not working.
It was the second time in seven years that Domodedovo was involved in a terrorist attack: In 2004, two female suicide bombers penetrated the lax security there, illegally bought tickets from airport personnel and boarded planes that exploded in flight and killed 90 people.
Conflicting reports emerged Tuesday about how the bombing was conducted, with some accounts citing unnamed sources as saying there were two bombers, one of them a woman.
Investigative Committee spokesman Vladimir Markin on Monday said the attack was most likely carried out by a suicide bomber and "attempts were being made to identify him."
The blast came at 4:32 p.m., when hundreds of passengers and workers were in that area of the terminal. They were sprayed with shrapnel of screws and ball bearings, intended to cause as many casualties as possible.
The terminal filled with thick smoke and witnesses described a scene of horror.
"There was lots of blood, severed legs flying around," said Yelena Zatserkovnaya, a Lufthansa official.
Airport workers turned baggage carts into makeshift stretchers to wheel the wounded to ambulances outside, she said.
Amateur video showed a pile of bodies on the floor, with other dead scattered around. Luggage also was strewn around the terminal and several small fires burned. A dazed man in a suit pushed a baggage cart through the haze.
Aviation security experts have been warning since the Sept. 11, 2001, attacks that the crowds at many airports present tempting targets to suicide bombers. Arrivals halls are usually open to anyone.
The attack also called into question Russia's ability to safely host major international events like the 2014 Winter Olympics in Sochi and the 2018 World Cup.
FIFA President Sepp Blatter was in St. Petersburg over the weekend to formally award Russia the 2018 World Cup. Prior to the signing, Blatter told Putin that he was certain FIFA had made the right choice.
Built in 1964, Domodedovo is located 26 miles southeast of Moscow and is the largest of the three major airports that serve the capital, handling more than 22 million people last year.
The Associated Press contributed to this report.