Witness in Italy Knox Trial Says He Can Clear Her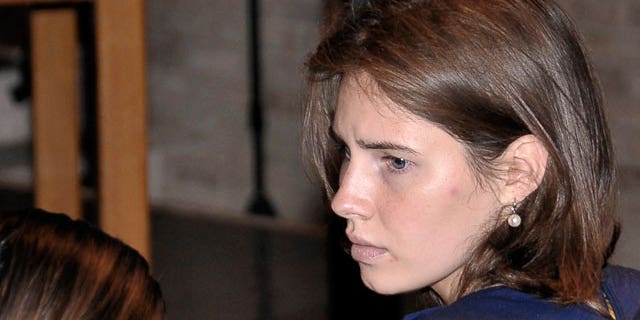 PERUGIA, Italy -- A convicted child murderer testified Saturday at the appeals trial for Amanda Knox, saying that a fellow inmate had told him the American student had nothing to do with her British roommate's slaying.
Witness Mario Alessi, who is serving a life sentence for one of Italy's most shocking crimes, the kidnap-murder of an Italian toddler snatched from his home, was called by defense lawyers. His credibility was soon challenged in court.
Knox was convicted of sexually assaulting and murdering British student Meredith Kercher in the house the two shared in Perugia, and sentenced to 26 years in prison. Her co-defendant and ex-boyfriend, Raffaele Sollecito of Italy, was also convicted and sentenced to 25 years.
They both deny wrongdoing and are appealing their convictions.
Also convicted in a separate proceeding was Rudy Hermann Guede, an Ivorian man whose conviction has been confirmed by Italy's highest criminal court. Guede also denies wrongdoing, but admitted being in Knox's and Kercher's apartment the night of the murder on Nov. 1, 2007.
Alessi is being held in the same prison as Guede. He testified that the Ivorian told him that Knox and Sollecito are innocent, speaking in prison conversations in November 2009. That was about a month before Knox and Sollecito were convicted in the first trial and while Guede had already been convicted and was appealing.
Alessi said Guede approached him during recreation time at the Viterbo prison.
"Rudy links arms with me, inviting me to take a walk with him, he has something important to tell me," Alessi testified. He quoted Guede as saying he was worried because "I don't know whether to tell the truth or not," and that the truth "is altogether different from what you hear on TV."
Alessi was called to testify by Sollecito's defense. Guede has denied speaking to Alessi about the case.
According to Alessi, Guede said he and a friend went over the house with the intent of having three-way sex with Kercher, who was 21. When she refused, the scene turned violent. Alessi said Guede told him he had gone to the bathroom and upon coming back he had seen his friend holding Kercher to the ground.
Eventually, "a knife appeared, almost out of nowhere," Alessi said, quoting Guede as saying that it was pointed at Kercher's throat. As she was fighting, she got her throat slit, Alessi claimed. Guede tried to rescue her, Alessi said, but his friend stopped him, saying "We've got to finish her, otherwise we'll rot in jail."
Guede did not reveal the identity of his alleged accomplice, according to the witness.
Alessi said he and Guede had developed a friendship in prison but eventually Alessi broke it off as he realized that Guede "said two innocent people were in jail" but did nothing about it. Alessi then contacted the lawyers representing Sollecito.
Alessi, a bricklayer, has been a notorious character since his conviction for the murder of 18-month-old Tommaso Onofri a few years back.
Francesco Maresca, a lawyer for the Kercher family, tried to cast doubt on Alessi's credibility, recounting his criminal record, then showing a picture of Onofri and asking Alessi if he knew him. "We do," Maresca said, when Alessi muttered "No."
Three more witnesses were called to back up Alessi's testimony, including police informant Marco Castelluccio, who took the stand behind a blue cover, guards around him.
Castelluccio was also held at the Viterbo prison. He said he heard the story about Knox and Sollecito's innocent mostly from Alessi. However, he said on one occasion when he was in his cell, he heard Guede say from a separate cell that Knox and Sollecito were innocent.
Knox attended the session, as did her stepfather Chris Mellas and friend Madison Paxton.