With focus on Mexico border, criminals, terrorists may be entering via Canada, report says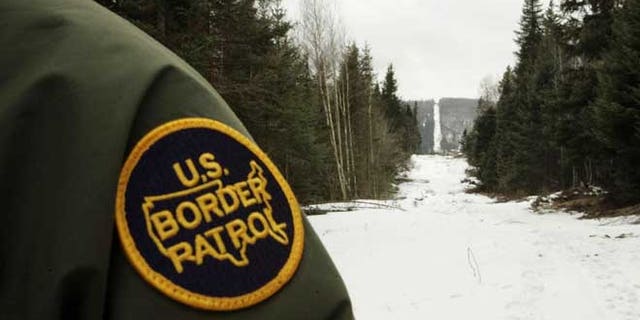 NEWYou can now listen to Fox News articles!
The images were worrisome – four men in camouflage outfits, with what seemed like weapons in tow, crossing the U.S. border.
Then there's the video showing another group sneaking across the border late at night.
Neither group was stopped, and U.S. border officials still do not know who they are or where they ended up.
Part of the reason why is because these illegal entries didn't occur along the U.S.'s closely-watched 2,000-mile-long border with Mexico.
They happened on the border with Canada, which despite being nearly three times longer at 5,500 miles, has long stretches that are unmanned and unpatrolled, with only gadgets – such as cameras – to document illicit activity, according to the New York Times.
Many more arrests are made along the U.S.-Mexico border, but federal agents say they have no way of knowing whether there is more criminal activity – typically smuggling drugs, weapons and humans across the borders – there. More worrisome, potential terrorists could be crossing the country's Northern border without anyone knowing.
"The problem is that we don't know what the threats and risk are, because so much attention is given to the Southwest border," Sen. Heidi Heitkamp (D-North Dakota) told the Times.
Northern border agents say they watch the images of undocumented crossers that are captured on camera anxiously but cannot pursue them.
"These guys make me nervous," said Bradley S. Curtis, acting division chief for the Border Patrol Swanton Division. "My technology can show me when someone makes an entry, but it can't tell me who they are, and we can't always get there in time to catch them."
With their more limited resources, Northern border officials say they have caught hundreds of people from numerous nations trying to sneak into the U.S. between Canada and this country.
"We've seen people from all over the world: Chinese, Haitians, Eastern Europeans, Brazilians, you name it," Curtis told the Times.
There have been some 3,000 arrests along the Northern border in the last 12 months – a stretch during which some 300,000 arrests were made along the U.S.-Mexico border.
Agents seized 700 lbs. of marijuana and cocaine along the Canadian border, compared to 1.6 million along the frontier with Mexico.
The Times reported that one 90-mile stretch in Vermont has become a magnet for criminals and others wanting to sneak into the United States because of its densely-wooded areas, which make it hard to detect crossings.
The Southern border has always loomed large as the symbol of illegal immigration and debates about security. After the 2001 terrorist attacks, the Department of Homeland Security bolstered the border patrol along the U.S.-Canada border to more than 2,000 from 340. The Southwestern border has 18,000 border agents.
Heitkamp, for her part, has drafted legislation calling for the DHS to conduct a study of the criminal and terrorist risks along the Northern border.
Senators from other states bordering Canada have co-sponsored the measure.
In a Senate Homeland Security Committee hearing last year, law enforcement officials warned that the remote areas along the Northern border left it vulnerable to terrorists wanting to reach the United States.
The Government Accountability Office put it to the test, in fact, in 2007, sending people into the United States from Canada, carrying a duffel bag that included what appeared to be radioactive material. They never got detected or stopped by law enforcement, the Times said.
"No one is arguing that the Northern border is the same as what's happening down on the Southwestern border, but we can't forget about this area," said Senator Jon Tester, Democrat of Montana, to the Times. "If we take our eye off of that, they will go where the weakest link is."
Like us on Facebook
Follow us on Twitter & Instagram