Wife of California mayor pleads not guilty to killing him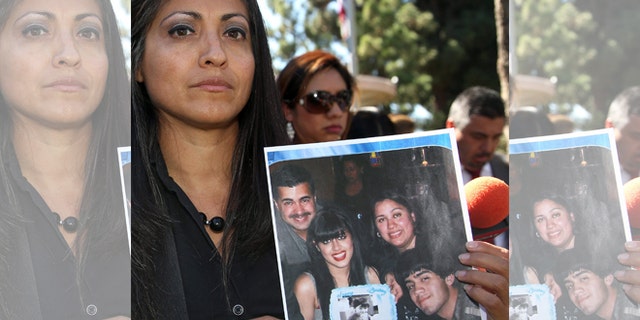 NEWYou can now listen to Fox News articles!
LOS ANGELES (AP) – The wife of a suburban Los Angeles mayor who was shot in his home pleaded not guilty Thursday to voluntary manslaughter.
Lyvette Crespo, 43, entered the plea to a grand jury indictment that said she acted in the heat of passion.
She was ordered held on $150,000 bail and could face up to 21 years in state prison if convicted.
Crespo told authorities she acted in self-defense when she shot Bell Gardens Mayor Daniel Crespo three times in the chest with a 9mm pistol on Sept. 30. She said he had punched their 19-year-old son in the face when he intervened in the couple's argument.
Daniel Crespo Jr. called 911 to report the shooting, telling a dispatcher: "He's on the floor dying. He hurt me."
Lyvette Crespo's attorney, Eber Bayona, said at a news conference Thursday that self-defense, "defense of others and the battered-woman syndrome" will be arguments at her trial.
Daniel Crespo, a Los Angeles County deputy probation officer, was elected in 2001 to the City Council of Bell Gardens, a city of about 42,000 residents. The mayor's position rotated among council members.
He and his wife were high school sweethearts and married as teenagers in 1986.
The autopsy report contained allegations by a daughter, Crystal Crespo, that her father had been verbally and physically abusive toward her mother over two decades.
She said the abuse had become more physical in recent years because of arguments over Daniel Crespo's infidelity, but the abuse was never reported and didn't leave serious injuries.
Daniel Crespo's brother, William Crespo, has disputed the abuse allegations.
His attorney has previously released text messages that appeared to show Lyvette Crespo was upset over her husband's infidelity and had threatened him in the past.
Daniel Crespo allegedly replied in one text: "N it better b d last time U threaten to shoot me in d head!!!"
The mayor's mother filed a $53 million lawsuit last fall in which she calls Lyvette Crespo a "cold-blooded killer" who picked a fight with her husband knowing their son would intervene.
Like us on Facebook
Follow us on Twitter & Instagram