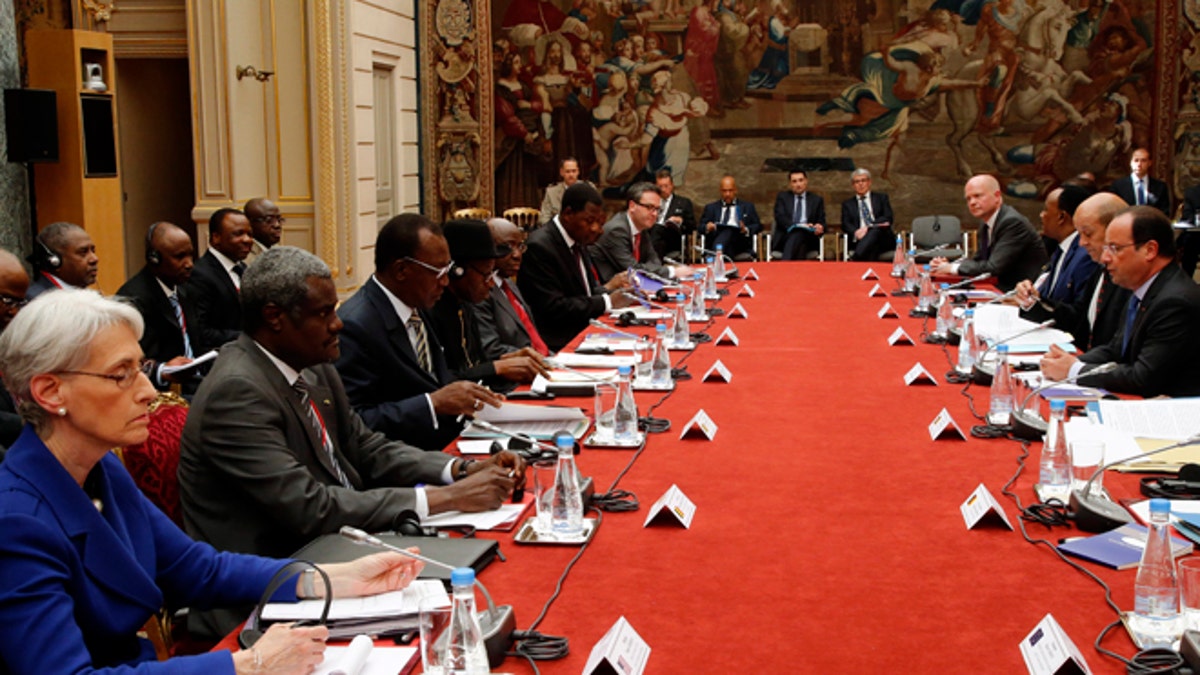 The U.S. and its allies have agreed on a plan to crack down on Boko Haram after a summit in Paris in which leaders and intelligence officials from the U.S., Europe and Africa grappled with how to combat the Islamic extremist group that is holding 276 schoolgirls hostage and whose reach extends to five countries.
"Today we've decided on a plan of regional and global action that is medium and long term," French President Francois Hollande told a news conference after the summit which was also attended by Nigerian President Goodluck Jonathan.
Hours after two more attacks in Boko Haram strongholds -- one in Nigeria that left a village torched and 40 people dead and another in Cameroon -- the leaders agreed to improve policing of frontiers, share intelligence, and trace the weapons and cash that are the group's lifeblood.
The plan calls for Western powers to cooperate with Nigeria and neighboring countries in surveillance and patrols along Nigeria's borders, according to The Wall Street Journal.
"This group is armed, with heavy weapons of an unimaginable sophistication and the ability to use them," said French President Francois Hollande.
He said the weapons came from chaotic Libya, and the training took place in Mali before the ouster of its Al Qaeda linked Islamist leaders. As for the money, Hollande said its origins were murky.
"Boko Haram is acting clearly as an Al Qaeda operation," said President Jonathan, who had only reluctantly accepted outside help after years of insisting the group was a local problem. Jonathan also said he was "totally committed" to finding the kidnapped schoolgirls.
Cameroon has become increasingly involved after Boko Haram has reportedly increased its presence in the country. An attack late Friday against a Chinese engineering firm's camp left at least 10 people missing and one person dead. China is a major investor in the region, helping build infrastructure, public health projects and sports facilities and importing crude oil, timber and cotton.
The camp was in the same nearly trackless parkland where the girls were first spirited away after an attack on their school in northern Nigeria, highlighting Boko Haram's ability to cross borders unimpeded.
An intelligence cell involving French, British and American agents is already operating out of Nigeria, but Boko Haram has seemingly continued to strike unimpeded.
Suspected Islamic militants attacked another northeast village before dawn on Saturday, killing about 40 people and burning all the huts as well as three vehicles, according to a member of a vigilante group that went to the village, Dalwa-Masuba, about 50 miles southwest of Maiduguri, the Borno state capital. He spoke on condition of anonymity because his group, one of many vigilante organizations set up to fight Boko Haram, does not permit members to talk to reporters.
Hollande also emphasized that Boko Haram had clearly established ties with other terror groups in Africa, making it a concern throughout the continent and beyond.
That could provide an opening for U.N. sanctions against the group to freeze its assets and impose travel bans against members. Wendy Sherman, a U.S. diplomat who was at Saturday's talks, said the sanctions could come as soon as next week.
"I can't imagine any country which would not support this designation," she said.
Surveillance jets have joined the search and Hollande left open the possibility that French fighter jets could be deployed.
Boko Haram has offered to exchange the captive girls for jailed insurgents, while threatening otherwise to sell them into slavery.
Officials have said there will be no Western military operation. British officials say Jonathan has ruled out swapping prisoners for the girls.
"There are many ways to bring this horrific situation to a close, but when and if we know where they are then the Nigerians will have to decide how to proceed," Sherman said.
Signs are growing that some Nigerian troops are near mutiny, complaining they are overwhelmed and outgunned by Boko Haram. Soldiers have told The Associated Press that some in the ranks actually fight alongside the group. Last year, Jonathan said he suspected that Boko Haram members and sympathizers had infiltrated every level of his government and military, including the Cabinet.
That complicates attempts to share intelligence. The U.S., France and Britain have all sent experts to help find the girls, but French and American officials have expressed concerns about how any information might be used.
The northeastern region where the girls were kidnapped has suffered five years of increasingly deadly assaults by Boko Haram. Thousands have been killed, including more than 1,500 civilians this year.
The Associated Press contributed to this report.