Watch: Palestinian stabs Israeli security guard in Jerusalem
The stabbing of an Israeli security guard at Jerusalem's main bus station by a Palestinian man was captured on surveillance video, the Jersusalem Post reported.
The graphic video footage posted online shows the 24-year-old man handing his belongings to the security guard, who was checking travelers at the station's door, before suddenly removing a knife and plunging it into the guard's chest.
The incident comes as the entire region has been hit with a wave of demonstrations against President Trump's decision to move the U.S. Embassy to Jerusalem -- a holy city revered by Christians, Jews and Muslims.
"I have determined that it is time to officially recognize Jerusalem as the capital of Israel," Trump said in a speech at the White House. "While previous presidents have made this a major campaign promise, they failed to deliver. Today, I am delivering."
WARNING: GRAPHIC VIDEO BELOW
However, Trump's decision broke with the long-held international view that Jerusalem's fate would ultimately be decided in negotiations between the Israelis and the Palestinians as part of a peace agreement.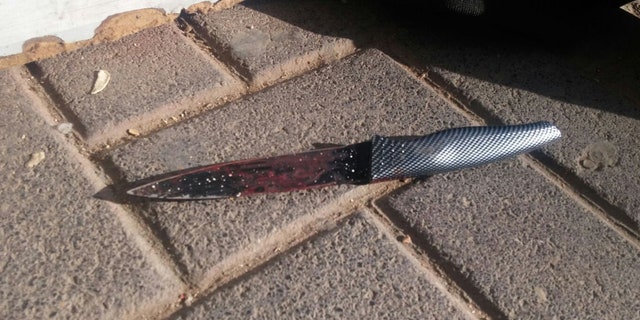 "Our hope is that everything is calming down and that we are returning to a path of normal life without riots and without violence," Israeli Defense Minister Avigdor Lieberman said on Army Radio, reports Reuters.
The security guard was in critical condition after the Palestinian man stabbed him, police said. The alleged assailant was taken into custody after a passer-by tackled him.
"The knife, unfortunately, hit his heart. His condition has stabilized, but I cannot say that there's not threat to his life because, like I said, he's in serious condition," Dr. Ofer Merrin, head of Shaare Zedek Medical Center, told the Times of Israel.
ISRAEL IS 'TERRORIST STATE' THAT 'KILLS CHILDREN,' SAYS TURKEY'S PRESIDENT
Arab foreign ministers who met in Cairo on Saturday said the U.S. move would spur violence throughout the region.