Washington Navy Yard Shooting Forces White House To Cancel Latin Music Event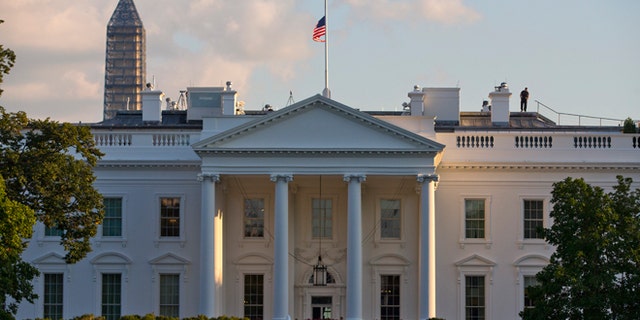 Washington – Citing a morning shooting at the Washington Navy Yard that left at least 13 people dead, the White House decided late Monday to postpone the taping of a program celebrating Latin music.
"In light of today's tragic events at the Washington Navy Yard and out of respect for the victims and their families, Musica Latina will be postponed to a new date," said the announcement about an hour and a half before President Barack Obama was to kick off the festivities in the White House East Room.
The motive for the mass shooting — the deadliest on a military installation in the U.S. since the tragedy at Fort Hood, Texas, in 2009 — was a mystery, investigators said. But a profile of the lone gunman, a 34-year-old Aaron Alexis, was coming into focus. He was described as a Buddhist who had also had flares of rage, complained about the Navy and being a victim of discrimination and had several run-ins with law enforcement, including two shootings.
Monday's onslaught at a single building at the highly secure Navy Yard unfolded about 8:20 a.m. in the heart of the nation's capital, less than four miles from the White House and two miles from the Capitol.
It put all of Washington on edge. Mayor Vincent Gray said there was no indication it was a terrorist attack, but he added that the possibility had not been ruled out.
"This is a horrific tragedy," Gray said.
Alexis carried three weapons: an AR-15 assault rifle, a shotgun, and a handgun that he took from a police officer at the scene, according to two federal law enforcement officials who spoke on condition of anonymity because they were not authorized to discuss the investigation. The AR-15 is the same type of rifle used in last year's mass shooting at a Newtown, Conn., elementary school that killed 20 students and six women. The weapon was also used in the shooting at a Colorado movie theater that killed 12 and wounded 70.
In light of today's tragic events at the Washington Navy Yard and out of respect for the victims and their families, Musica Latina will be postponed to a new date.
For much of the day, authorities said they were looking for a possible second attacker who may have been disguised in an olive-drab military-style uniform. But by late Monday night, they said they were convinced the shooting was the work of a lone gunman, and the lockdown around the area was eased.
"We do now feel comfortable that we have the single and sole person responsible for the loss of life inside the base today," Washington police Chief Cathy Lanier said.
President Barack Obama lamented yet another mass shooting in the U.S. that he said took the lives of American "patriots." He promised to make sure "whoever carried out this cowardly act is held responsible."
The FBI took charge of the investigation.
The attack came four years after Army psychiatrist Maj. Nidal Hasan killed 13 people at Fort Hood in what he said was an effort to save the lives of Muslims overseas. He was convicted last month and sentenced to death.
In addition to those killed at the Navy Yard, eight people were hurt, including three who were shot and wounded, according to the mayor. Those three were a police officer and two female civilians, authorities said. They were all expected to survive.
The dead ranged in age from 46 to 73, according to the mayor. A number of the victims were civilian employees and contractors, rather than active-duty military personnel, the police chief said.
At the time of the rampage, Alexis was an employee with The Experts, a company that was a Defense Department subcontractor on a Navy-Marine Corps computer project, authorities said.
Valerie Parlave, head of the FBI's field office in Washington, said Alexis had access to the Navy Yard as a defense contractor and used a valid pass.
Alexis had been a full-time Navy reservist from 2007 to early 2011, leaving as a petty officer third class, the Navy said. It did not say why he left. He had been an aviation electrician's mate with a unit in Fort Worth.
A convert to Buddhism who grew up in New York City, Alexis had had run-ins with the law over shooting incidents in 2004 and 2010 in Fort Worth and Seattle and was portrayed in police reports as seething with anger.
The Washington Navy Yard is a sprawling, 41-acre labyrinth of buildings and streets protected by armed guards and metal detectors, and employees have to show their IDs at doors and gates. More than 18,000 people work there.
The rampage took place at Building 197, the headquarters for Naval Sea Systems Command, which buys, builds and maintains ships and submarines. About 3,000 people work at headquarters, many of them civilians.
Witnesses on Monday described a gunman opening fire from a fourth-floor overlook, aiming down on people on the main floor, which includes a glass-walled cafeteria. Others said a gunman fired at them in a third-floor hallway.
Patricia Ward, a logistics-management specialist, said she was in the cafeteria getting breakfast.
"It was three gunshots straight in a row — pop, pop, pop. Three seconds later, it was pop, pop, pop, pop, pop, so it was like about a total of seven gunshots, and we just started running," Ward said.
A new date for "Musica Latina: In Performance at the White House" was not immediately announced.
Gloria Estefan, Romeo Santos, Lila Downs, Marco Antonio Solis, Natalie Cole and other musicians were to join Obama and Michelle Obama for a taping of the latest installment in the decades-old series. Coming at the start of the monthlong celebration of Hispanic heritage, the concert was to showcase the various styles of Latin music.
Other artists scheduled to perform were Ricky Martin, Price Royce, Arturo Sandoval, Raul Malo and Alejandro Sanz.
At a White House event earlier Monday, the first lady said the beats and melodies in Latin music are so irresistible that even the president would "shake his groove thing" Monday night. But the prospect of seeing Obama jiggle his hips grew increasingly unlikely as the death toll mounted and other events around town were postponed.
At the Capitol, Senate Majority Leader Harry Reid, D-Nev., announced that he was adjourning the Senate and postponing votes until Tuesday. The Washington Nationals baseball team also postponed its Monday night series opener against the Atlanta Braves and will now play a doubleheader on Tuesday.
When it is rescheduled, "Musica Latina: In Performance at the White House," will be the 12th installment in the series produced by the local PBS television station since 1978. Every president since Jimmy Carter has participated in the series.
Since Obama took office in 2009, the program has celebrated the music of Stevie Wonder, Paul McCartney, Carol King, Burt Bacharach and Hal David, Hispanic music, music from the civil-rights era, Motown, the blues, Memphis soul, Broadway music and country ballads.
Based on reporting by The Associated Press.
Follow us on twitter.com/foxnewslatino
Like us at facebook.com/foxnewslatino