Violent protests break out in Venezuela on one-year anniversary of uprising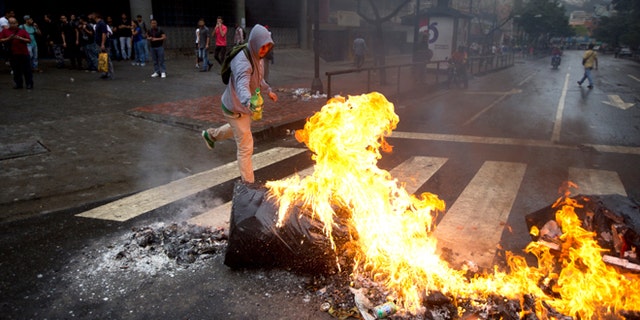 SAN CRISTOBAL, Venezuela (AP) – Protesters clashed with police in this anti-government stronghold Thursday amid a storm of tear gas, rocks and rubber bullets as Venezuelans staged dueling marches on the anniversary of last year's bloody protest movement.
While demonstrations were mostly calm elsewhere in the socialist South American country, an anti-government march turned violent in this restive city near the border with Colombia, which was an epicenter of the 2014 movement.
Embattled President Nicolás Maduro, meanwhile, said his administration foiled a coup attempt that was supposed to take place Thursday and he alleged it had U.S. backing. He said five air force officers, including a general, were detained for plotting to use a military jet to bomb the presidential palace. He provided no evidence or other details.
Maduro frequently denounces what he says are coup attempts without providing specifics, and last year arrested several members of the military who he said were plotting to overthrow him.
A sea of protesters marched in San Cristóbal's streets. Some youths covered their faces with bandanas and threw projectiles at police officers clad in riot gear, who fired tear gas canisters while onlookers ran in the opposite direction with young children in their arms.
At least five people were injured in the fighting, San Cristóbal Mayor Patricia Gutierrez said.
Young protesters in Caracas set up a flaming barricade to shut down the main thoroughfare of a wealthy neighborhood where much of last year's protesting was centered. As dusk fell, some youths threw Molotov cocktails at police, who responded with rubber bullets.
Earlier in the day, both friends and foes of Venezuela's socialist government braved pouring rain to stage competing marches. A small group of students in Caracas rallied against the government near one of the country's largest universities, but they were outnumbered by lines of riot police. The police stopped them from marching to a church for a planned service in memory of those who died in last year's clashes.
In a different part of town, a larger number of government supporters marched in a demonstration of support for embattled President Nicolás Maduro. Dozens of government buses could be seen at the start of the route, indicating some marchers were government workers brought in by officials.
Opposition leaders called masses of supporters into the streets last February, setting off months of violent protests that resulted in more than 40 people being killed, including both Maduro supporters and opponents.
Dozens of protesters remain jailed, while the social issues they railed against last year— a faltering economy, widespread shortages and pervasive violent crime — have only gotten worse.
Young people also held informal Masses for those killed around the country Thursday.
Like us on Facebook