HSBC shielded Venezuela, drug dealers and businessmen from paying taxes, report says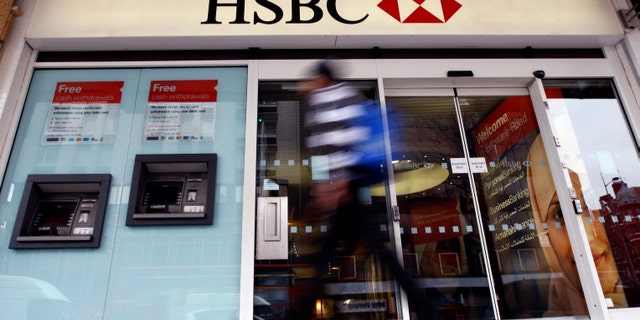 A report by the International Consortium of Investigative Journalists (ICIJ) released on Monday found that HSBC's Swiss private bank hid millions of dollars for drug traffickers, arms dealers and celebrities around the globe, and that the bank colluded to help them dodge taxes.
Switzerland had the greatest number of clients of the data examined, followed by France, the United Kingdom, Brazil and Italy. In terms of dollar amounts involved, Venezuela ranked third in the world with $14.8 billion in private HSBC accounts, behind only Switzerland ($31.2 billion) and the United Kingdom ($21.7 billion).
The U.S. ranked fourth, with $13.4 billion in stashed funds.
Maintaining secret Swiss bank accounts isn't in itself illegal, but they can be used to hide income from illegal activities or to avoid paying taxes.
According to the Miami Herald, Venezuela's Treasury Office became an HSBC client in 2005 and its account at one point held $11.9 billion.
The data that the report is based on dates to 2007, and by that time, the Treasury Office held three bank accounts with "only" $698 million in them.
The lead official listed in connection with those accounts was Alejandro Andrade, a former bodyguard to the late president, Hugo Chávez, who became the country's Treasury Minister in 2007 and served as president of the Economic and Social Development Bank of Venezuela from 2008 to 2010.
He now lives in Wellington, Florida, in Palm Beach County, where, according to the ICIJ, he "has invested in show horses."
Other notable Latin Americans who were called out by the ICIJ for participating in the HSBC accounts include:
Alvaro Noboa, the head of Ecuador's Grupo Noboa, a failed presidential candidate and, according to former president Rafael Correa, a "mogul who does not pay taxes." Fruit Shippers Limited, a company in which Noboa is the controlling shareholder, had an HSBC account which held as much as $92.1 million.
Mexican billionaire Carlos Hank Rhon, the co-owner of Grupo Financiero Interacciones and Grupo Hermes, had a personal account with $20.1 million. He was the principal of an HSBC account-holder, "Hmex Pte. Ltd" (his connection to it was later deleted), that had 10 bank accounts with as much as $158 million in them.
The late executive chairman of Spain's Banco Santander, Emilio Botín, was linked to an account under the name "North Star Overseas Enterprises," connecting him to five bank accounts that held as much as $82 million.
Diego Forlán, the outstanding forward for the Uruguayan national soccer team who now plays for Cerezo Osaka in Japan also had over $1 million in an account. While playing for Villareal in Spain, Forlán was associated with four accounts that held as much as $1.4 million in them.
Although details of Swiss bank accounts are usually kept secret, a former HSBC employee, Herve Falciani, gave the data to French tax authorities in 2008. France shared it with other governments, some of which (such as the U.S.) launched investigations.
The French newspaper Le Monde obtained a version of the data and shared the material with the ICIJ—a network of investigative journalists in more than 65 countries that was started by the Center for Public Integrity in Washington, D.C.—which analyzed the material together with the Guardian and the BBC in the U.K.
The leaked documents cover the period up to 2007 and relate to accounts worth $100 billion held by more than 100,000 people and legal entities from 200 countries.
"The bank repeatedly reassured clients that it would not disclose details of accounts to national authorities, even if evidence suggested that the accounts were undeclared to tax authorities in the client's home country," the consortium said. "Bank employees also discussed with clients a range of measures that would ultimately allow clients to avoid paying taxes in their home countries."
Crawford Spence, a professor of accounting at the University of Warwick, said this case was different than other recent tax scandals.
"HSBC has been complicit in clear tax evasion and law breaking rather than legitimate tax avoidance," he said.
The disclosures could see governments step up their efforts to prosecute tax evaders and the bank itself.
Governments are looking to crack down on tax evasion to bolster their coffers depleted by the financial crisis and amid criticism that the rich aren't paying their fair share.
In Great Britain, the national tax agency identified 3,600 citizens as using the Geneva branch of HSBC, but only one person has been prosecuted.
"You are left wondering, as you see the enormity of what has been going on, what it actually takes to bring a tax cheat to court," Margaret Hodge, chair of Parliament's Public Accounts Committee, told the BBC.
HSBC stressed that the documents were from 8 years ago and said it has since implemented initiatives designed to prevent its banking services from being used to evade taxes or launder money.
Franco Morra, CEO of HSBC's Swiss subsidiary, said the new management had shut down accounts from clients who "did not meet our high standards."
"These disclosures about historical business practices are a reminder that the old business model of Swiss private banking is no longer acceptable," he said in a statement.
The Associated Press contributed to this report.
Like us on Facebook
Follow us on Twitter & Instagram