Video shows first B-52 strike since joining anti-ISIS fight in Iraq
The Pentagon released new video Thursday showing a B-52 bomber destroying an Islamic State weapons storage facility in Iraq -- the first strike from the aircraft since it joined the anti-terror fight earlier this month.
The airstrike unfolded near Quyarrah outside the ISIS hub of Mosul on Monday, defense officials say.
The nuclear-capable B-52 Stratofortress can stay in the air for over 10 hours at a time and carries a much larger payload than F-16 or F-15 fighter jets.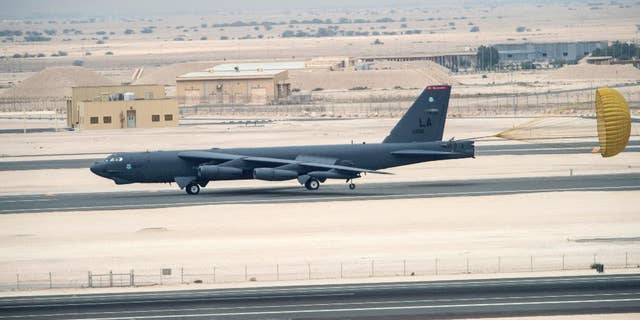 The Pentagon used the Eisenhower-era aircraft for carpet-bombing during the Vietnam War, but it fired precision strike weapons successfully against the Taliban shortly after the September 11th terror attacks in the skies over Afghanistan.
The U.S. has agreed to deploy more than 200 additional troops to Iraq and to send eight Apache helicopters for the first time into the fight against ISIS, the first major increase in U.S. forces in nearly a year, U.S. defense officials said Monday. The uptick in American fighting forces -- and the decision to put them closer to the front lines -- is designed to help Iraqi forces as they move to retake the key northern city of Mosul.
Speaking to reporters Monday in Baghdad, Defense Secretary Ash Carter said the decision to move U.S. advisers to the Iraqi brigade and battalion level will put them "closer to the action," but he said they will have security forces with them and the U.S. will do what's needed to reduce the risks.
Fox News' Lucas Tomlinson and The Associated Press contributed to this report.