Victim families confront Mexico president-elect over amnesty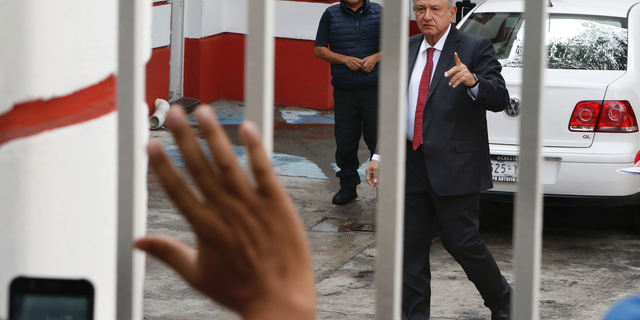 MEXICO CITY – Mexico's president-elect faced the toughest, angriest crowd yet since winning the July 1 election, going before relatives of crime victims and disappeared people Friday to try to convince them of his amnesty proposal.
Andres Manuel Lopez Obrador has proposed investigations and truth commissions to find out the fate of missing people, but also says some offenders should be pardoned.
Some of the relatives who attended the forum in Mexico City reacted angrily, shouting "Justice! Justice!" and "Don't forgive, don't forget!"
Lopez Obrador has often said that "you cannot fight violence with violence." Amnesty is needed to "pacify" Mexico, he says.
He staunchly defended his position Friday, telling relatives: "I'm telling you: 'Don't forget, but do forgive' — that is my proposal."
Lopez Obrador suggested he would lead by example.
"As soon as I am president I am going to ask forgiveness. I am going to ask forgiveness from all the victims of violence," he said. "I am going to commit myself to doing as much as I humanly can to ensure there will be justice."
Victims' advocates complain they cannot be expected to pardon people who have never been convicted for killing or kidnapping their relatives, and who have never revealed the location of their bodies.
There are over 30,000 people listed as missing during Mexico's drug war, and authorities continue to find mass graves with hundreds of bodies at clandestine burial sites. Few of those bodies are ever identified.
Families complain that Lopez Obrador has the cart before the horse: They say authorities should do a far better job identifying bodies and searching for victims, before considering an amnesty.
The victims' group Movement for Our Disappeared in Mexico said in a statement, "Our primary need is for searches to be carried out, but truth and justice are also essential."
"Truth and justice are not negotiable," the group wrote.
Lopez Obrador has promised to consult victims' groups on any decision he makes, and he held a similar but somewhat quieter "pacification and reconciliation" forum in the border city of Ciudad Juarez in August.