Venezuela's president orders 60% hike of minimum wage ... in a 500% inflation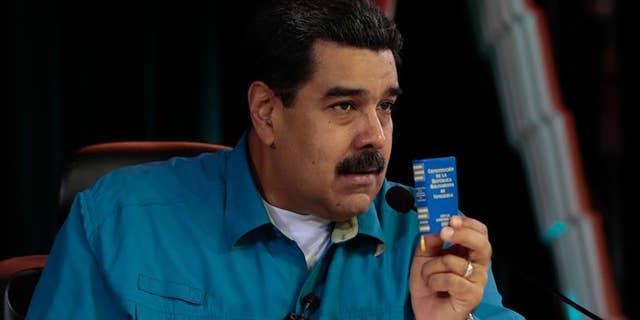 Venezuelan President Nicolas Maduro announced Sunday a 60 percent increase in the minimum monthly wage, from 40,638 bolivares to 65,021 bolivares — the latter value roughly $90 at the current official exchange of 717 bolivares per dollar.
It was the third pay increase the socialist leader has ordered this year and the 15th since he became president in 2013.
Maduro also handed out hundreds of free homes amid his efforts to counter a strengthening protest movement seeking his removal.
"I have decided to increase the minimum wage, pensions .... for all workers in the public administration ... by 60 percent," said the president on his weekly broadcast, mandatory on both radio and television.
VENEZUELA INCREASINGLY ISOLATED AS IT ANNOUNCES WITHDRAWAL FROM OAS
In the midst of a bruising economic crisis, the leftist government has not published inflation data for more than a year but according to Venezuelan consultancy Ecoanalitica, inflation was 525 percent last year.
New York-based investment bank Torino Capital, using one popular food item as a proxy, put it at 453 percent.
In addition, President Maduro said he had decided to raise the mandatory food subsidy from 108,000 to 135,000 bolivares, "that is, workers will have a minimum legal income of 200,000 bolivares," or about $278 per month.
US URGES VENEZUELA TO RELEASE JAILED UTAH MAN ON
HUMANITARIAN GROUNDS
The announcements came as government supporters and Maduro's opponents prepared for rival marches to commemorate May Day on Monday.
Twenty-nine people have been killed, hundreds injured and more than 1,300 arrested during a month of protests that are the bloodiest to hit Venezuela since anti-government unrest in 2014 resulted in more than 40 dead.
Protesters accuse Maduro of taking Venezuela down the path of dictatorship, unrest triggered by the government-stacked Supreme Court stripping congress of its last vestiges of power.
They are demanding early elections and freedom for dozens of political prisoners as a way out of the stalemate.
VENEZUELA'S PRESIDENT STARS IN CHEERY VIDEOS AMID CHAOS
Minutes after the announcement, the president of the National Commerce and Services Council of Venezuela, Cipriana Ramos, said she was not "surprised" at the increase but that it would "hit companies ... much harder."
In remarks to private Union Radio, Ramos said that "putting up with a pay increase at this time of crisis the country is experiencing is impossible."
EFE, AP and Reuters contributed to this report.