Venezuela's eviction order of major food warehouse in Caracas has workers on edge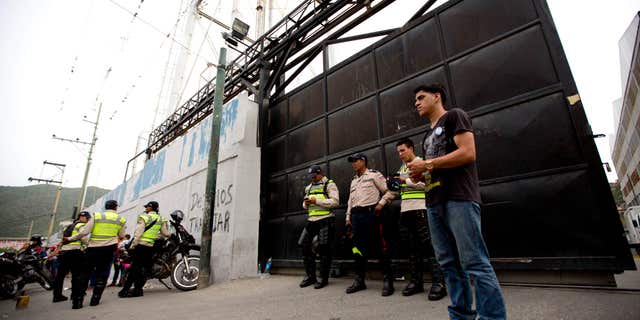 As soon as word got out that Venezuelan soldiers were taking over Caracas' warehouse of Empresas Polar, the country's largest food distributor, the nearly 2,000 workers whose job is on the line went on the offensive and activated their so-called "Plan Garra" (Claw Plan, as in polar bear claw).
The plan was to take to social media and spread the news ahead of the government, which currently controls 90 percent of national newspapers and TV channels.
The account @TodosSomosPolar (We are all Polar) had 96,000 followers as of Friday afternoon and it helped generate a social media trend that came on top with the hashtag #ProducciónSíExpropiaciónNO (Yes to production and no to expropriation), according to the tracking site trendinalia.com.
"We have to defend the company because if there is no company there are no jobs," said Pablo Castro, president of the Federation of Beverage Workers (FTB), which represents unions from 21 companies.
"We are under alert all around the country to defend our jobs against these arbitrary government decisions," he told Fox News Latino.
The complex is also used by several other large companies, including PepsiCo Inc. and Nestle SA.
The occupation of Polar's warehouse took place amid accusations by the government that the company is hoarding goods, but the government said it's all part of a housing program to benefit the poor. It gave Polar 60 days to vacate the facilities.
According to Castro, more than 2,000 people work in the warehouse complex that's been taken over – the government's purported plan is to build 140 homes there.
"They are affecting more people than the number that will be benefit," he said.
The workers' pressure seems to be having an effect. On Friday morning, Housing Secretary Ricardo Molina paid a visit to the warehouse and heard the workers' concerns.
"The workers asked for the reconsideration. We hope they will act reasonably," Castro said.
Also on Wednesday, Venezuela's federation of brewers announced that Polar's beer manufacturing subsidiary is shutting two of its six plants because of a lack of imported barley.
Empresas Polar has 17 production sites in Venezuela and three plants in Colombia. Their manufactured products include cereals, margarine, sauces, cheeses, vinegars, canned, frozen seafood products, beverages, ice cream, jams, pet food, beer and wine.
The South American oil-exporting nation is grappling with chronic shortages of all kinds of staples from sugar to toilet paper, which businesses blame on the socialist government's economic policies.
With 30,000 workers all around the country, Polar is the biggest Venezuelan producer of wheat for "arepas," one of the products most affected by shortages, and is also the biggest distributor of beer.
Earlier this month, the head of Venezuela's liquor store federation warned that the nation was about to run out of beer because brewers had reached "zero hour" amid widespread shortages in raw materials. Days later, he was detained for reasons that remain unclear.
Polls suggest most Venezuelans are not buying President Nicolas Maduro's economic war narrative. On Thursday, residents of the humble homes around the warehouse complex came out to show support for Polar and its employees.
Luis Ignacio Moreno said the housing situation is dire, but there is no need to pit one group's needs against another's.
"I want them to build, but not to drive Polar out. That's where a lot of my neighbors work," he said.
The AP contributed to this report.