Venezuelan president's nephews charged with drug trafficking go to trial in NYC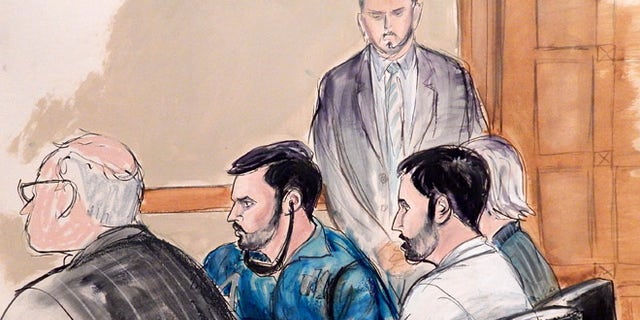 NEWYou can now listen to Fox News articles!
NEW YORK (AP) – Two nephews of Venezuela's first lady are set to go on trial on drug charges in New York City.
Jury selection begins Wednesday, with opening statements not expected until Monday in the trial of Efrain Campo, 29, and Francisco Flores, 30.
The men, nephews of first lady Cilia Flores, were arrested in Haiti last November and flown to New York. They have pleaded not guilty to conspiring to import 800 kilograms of cocaine into the United States.
Prosecutors and defense attorneys have argued in court papers in recent weeks over the merits of recordings of the nephews as they spoke with confidential informants for the U.S. government.
Prosecutors are seeking to introduce evidence suggesting the men had hoped to generate large amounts of cash through drug deals to help their family oppose enemies — including the United States — before elections last December.
In a transcript entered into the trial's public record by prosecutors last week, Campo, an attorney, is quoted as telling two confidential informants during an October 2015 meeting in Caracas, Venezuela, "We have a ... war with the Americans."
Prosecutors said Campo and Flores told the informants that they wanted to send multiple loads of cocaine into the U.S. in November and December 2015 to generate at least $20 million.
Defense attorneys want to exclude the recordings from trial, calling them "highly politicized statements" that were instigated by the informants.
The attorneys noted that one of the informants raised the topic of the December 2015 parliamentary elections with the nephews, saying, "I'll send you a really big check for your mother ... because right now the campaign is more important. ..."
The attorneys noted that Campo explained, "But we need the money. Why? Because the Americans are hitting us hard with money. Do you understand? The opposition is getting an infusion of a lot of money and so, it's also us, that's why we are at war with them."
The lawyers asked the judge to exclude the statements.
"Because these statements are nothing more than idle political chatter that is irrelevant to the charged conspiracy, these statements are likely to lead to juror confusion and to undue prejudice for the defendants," they wrote.
The defendants said in declarations in support of a request to suppress their post-arrest statements that they were terrorized after their arrests and feared they were being kidnapped and might be killed.
U.S. District Judge Paul Crotty recently rejected those claims when he ruled that the statements the men made to law enforcement authorities can be used at trial.
The judge had presided over a hearing when witnesses revealed that a father-son team of informants helped the Drug Enforcement Administration carry out a sting that led to the arrests of the men.
Like us on Facebook
Follow us on Twitter & Instagram