Venezuelan 'daughters of Chavismo' exposed living lavishly overseas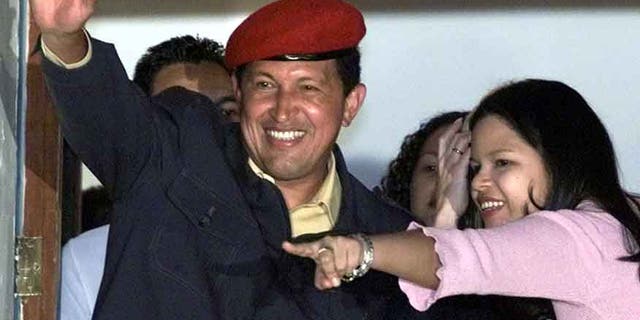 A Twitter account set up by members of Venezuela's opposition has become a window into the opulent lives of the so-called "daughters of chavismo" — young women who grew up in privileged households owned by members of the socialist government and now continue enjoying the good life abroad.
In the past few weeks, VVsincensura has been posting photos provided by its followers showing family members of the political elite having a good time in their brand new car, eating in Paris or surfing in some exotic beach.
HUGO CHÁVEZ DAUGHTER IS THE RICHEST INDIVIDUAL IN VENEZUELA, REPORT CLAIMS
One of them is Lucia Rodriguez, daughter of hard-left mayor of Caracas and niece of the foreign minister, who actually started the trend by posting images of herself as a student at a private university in Sydney. This enraged many in the hyperinflationary country, where the population is struggling with accute shortages of food and medicine.
According to The Times of London, Rodriguez was tracked down by an opposition activist to Bondi Beach, where she was photographed surfing and sipping cocktails.
Other daughters of the Bolivarian Revolution exposed as leading lavish capitalist lifestyles are two teenage children of Defense Minister Vladimir ­Padrino Lopez, who are reportedly studying in Spain, and Daniella Cabello, a glamorous daughter of senior government adviser Diosdado Cabello, believed to be studying in Brazil.
OUTRAGED WITH SERIES ABOUT CHAVEZ'S LIFE, VENEZUELA PREZ ORDERS A REMAKE
A couple of weeks ago, a group of Venezuelans confronted Mayor Rodríguez's daughter when they saw her walking in the Australian capital.
"People are dying because of your dad!" the group shouted, as shown on a YouTube video that quickly went viral in Venezuela.
"Call your aunt and ask her where Leopoldo is!" they also said, alluding to jailed opposition leader Leopoldo Lopez.
Rumors of extreme privilege also surround the two daughters of late President Hugo Chavez. Maria ­Gabriela, the eldest, is deputy ambassador to the UN in New York City and according to some in the opposition she is worth billions. Her sister ­Rosines Chavez is reportedly studying at the Sorbonne university in Paris.
VENEZUELA'S TOP OFFICIALS SPORT LUXURY WATCHES WHILE COUNTRY STARVES

According to UK Times, many families linked to the Maduro government have moved to the U.S., despite it being deemed an evil capitalist empire that is plotting a coup to overthrow the president.
Eugenio Vasquez ­Orellana, a former banking minister, was spotted recently at a Miami bakery, and former judge Dayva Soto and her husband Rafael Jiménez, an ex-minister, reportedly live in a $900,000 home in Florida.
Two nephews of President Maduro's wife, Cilia Flores, are in a New York, albeit involuntarily: they are in a New York jail after being convicted last year of attempting to smuggle millions of dollars of cocaine into the U.S.