Venezuelan Capital Traffic Halts To Protester Barricades, Death Toll Rises To 12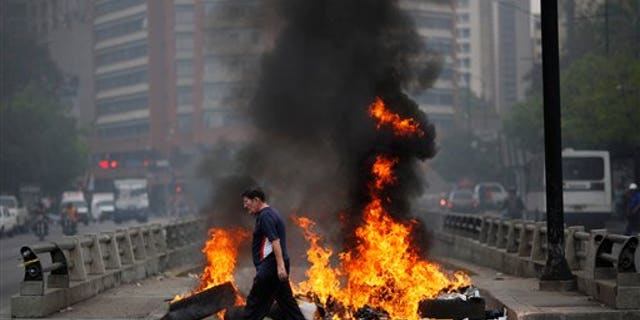 CULIACAN, MEXICO (AP) – Opposition protesters erected barricades across major thoroughfares on Monday, bringing traffic to a halt in parts of the Venezuelan capital in a continuation of the unrest that has roiled the country for nearly two weeks.
The barricades of trash and other debris prompted the cancellation of some bus routes and made the morning commute a nightmare for many, but there were no reports of major violence as police began dismantling the roadblocks. There were similar reports of blockades in the provincial cities of Maracaibo and Valencia.
Since Feb. 12, opponents of President Nicolas Maduro have been staging countrywide protests that the government says have resulted in at least 12 deaths and more than 130 injuries.
The demonstrators blame Maduro's administration for the country's high crime rate and economic troubles. They say his socialist-inspired polices have led to shortages of basic goods and inflation above 50 percent, among the world's highest, despite the country's vast oil reserves.
Maduro has called for a national peace conference this week to address the unrest. Opposition Gov. Henrique Capriles says he has not decided whether he will participate.
Follow us on twitter.com/foxnewslatino
Like us at facebook.com/foxnewslatino