Venezuela President Hugo Chavez says new tumor was cancerous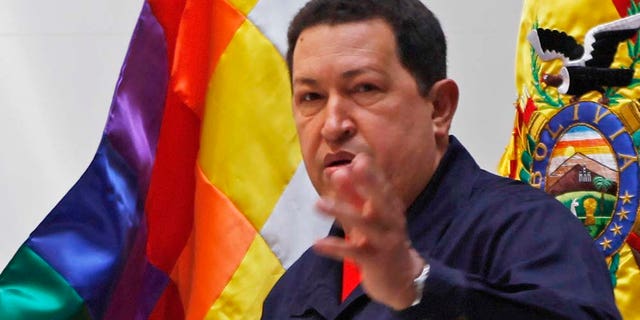 CARACAS, Venezuela – Venezuelan President Hugo Chavez revealed Sunday that a new tumor recently removed from his pelvic region was of the same type of cancer as a baseball-sized growth extracted from that part of his body about eight months ago.
In his first TV appearance in nine days, Chavez said the surgery and follow-up tests showed the tumor was "a recurrence of the initially diagnosed cancer."
He said the tumor was totally extracted and noted "the absence of lesions suggestive of cancer neither locally, neither in nearby organs, neither far away ... neither metastasis, none of this thanks to God, to the diagnosis and rapid intervention."
The 57-year-old president said he would spend several weeks recovering and then "we are going to do radiation treatment in the area ... without discarding other treatment options."
"There isn't fever nor any other sign, neither infection, hemorrhage," he said. He called the post-surgery healing "perfect in relation to the time that's passed, and we are already doing physical therapy."
Chavez spoke firmly in footage recorded Saturday in Havana while accompanied by various government ministers and older brother Adan Chavez. The president said his recuperation has been "open, progressive and rapid" in the footage aired Sunday in Venezuela.
Chavez said "still it hasn't been six days because the operation ended on the night of last Sunday."
He verified the date of the recording by displaying a Saturday copy of the Cuban government newspaper Granma and a similar copy of the Venezuelan government paper Correo del Orinoco.
"We are very optimistic," he said while seated at an oval conference table. "There is a very favorable medical evolution, the vital signs very favorable."
Chavez underwent several weeks of radiation treatment in 2011.
Chavez flew to Cuba for his most recent surgery on Feb. 24, and his absence from the public spotlight since then has sparked speculation about his health. Chavez did phone into a show Friday on Venezuelan state television when he said he was recovering well.
Chavez hasn't specified what kind of cancer he has or exactly where it's located. But cancer specialists say that based on available information, Chavez appears to suffer from a relatively rare cancer known as sarcoma, which tends to reappear in the same location where related tumors are removed.
The president has taken pains to demonstrate unflagging energy in his public appearances as he faces a tough re-election battle this November.
"Everyone who has been operated on knows ... the impact of an operation of various hours," Chavez said in the most recent footage. "And how, above all the first day when the body begins to awaken, the pains begin, the obstacles, after one goes step by step recovering the functions of the body, like I'm recovering."
He added, "Since almost the second day, I began to walk. For this, I say thanks to God, to everybody."
He spoke in a stark, white-walled room, in front of paintings of Cuban independence leader Jose Marti and South American hero Simon Bolivar. With no one taking over his duties in Venezuela, Chavez issued instructions to government ministers and approved the budgets of various state-owned companies.
As he has done in recent weeks, Chavez defended Syrian President Bashar Al-Assad, who has tried to violently crush a popular revolt in much of the Middle Eastern country. Venezuela has at least twice sent shipments of diesel oil to Syria over the past months.
"We continue lamenting the aggressions against Syria," Chavez said, "and the pressure of the United States government and many European countries, failing to recognize the sovereignty of a people such as the Syrian people."
"From here," Chavez said, "we send our solidarity to the Syrian people and to President Bashar Al-Assad."
Later Sunday, at Havana's cathedral, a service was held for Chavez's health.
Chavez is "in good spirts and boosted by the support and love of the Venezuelan people," said Venezuelan Foreign Minister Nicolas Maduro, who was at the service.
In Venezuela, Chavez supporter Johsny Flores said his faith in the leader remains high despite the reports of ill health.
"Cancer is a serious illness, but I know that Chavez has so much love for the country, so much desire to continue with us, that he has going to come out of this," said Flores, a 35-year-old street vendor.
On the other side of the political fence, merchant Tomas Gutierrez followed the example of sole opposition presidential candidate Henrique Capriles and wished Chavez a swift recovery even as he longed for an end to the leader's 13-year rule.
"Another person in his place would be on the floor," the 63-year-old said. "We have to recognize his will power. But also, we hope that he gets better and that Capriles wins and puts an end to this disastrous government."