Venezuela opposition leader banned from running for office for 15 years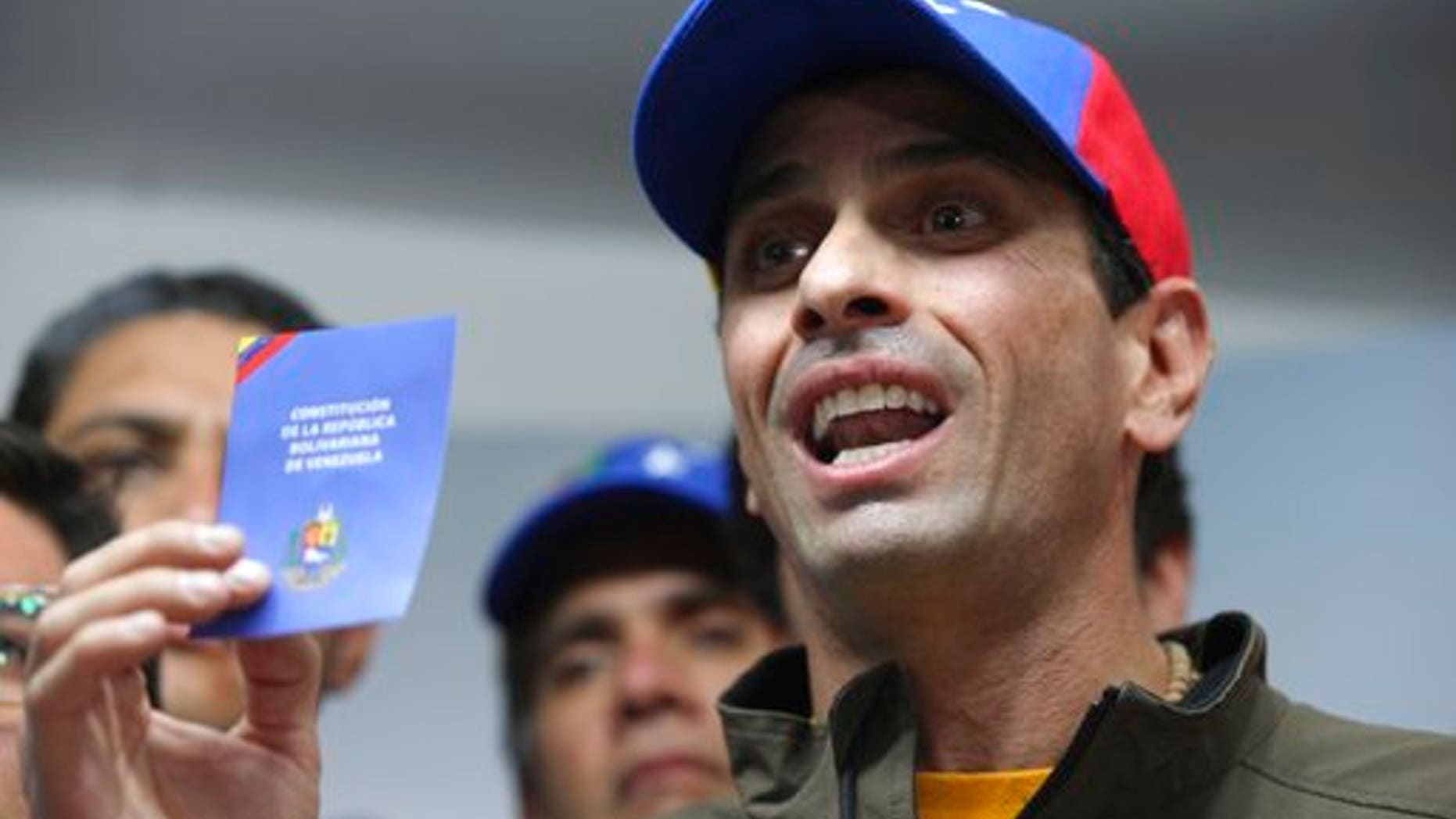 CARACAS, VENEZUELA – Leading Venezuela opposition leader Henrique Capriles announced Friday that he has been banned from running for office for 15 years.
He said on his Twitter account Friday that he had just been notified of the decision. There was no immediate comment from the government.
Capriles is the most recognizable of the leaders behind the protest movement that has been roiling the embattled country this week. He is the governor of Miranda State and lost a hard-fought presidential election to Hugo Chavez in 2012. The following year, was again the opposition's presidential candidate, and lost to current president Nicolas Maduro by a small margin.
Among the opposition, he's considered the more moderate of leaders, having criticized a wave of protests in 2014 that led to scores of deaths.
Leopoldo Lopez, the leader of those protests, has been held in prison for the past three years after having been sentenced on what are widely seen as trumped up charges of inciting political unrest.
VENEZUELA'S HEALTH CRISIS NEARING CATASTROPHE, GOVERNMENT PLEADS FOR HELP
The most recent wave of protests claimed its first victim Thursday night. College student Jairo Ortiz was shot dead by an unknown assailant during a protest outside Venezuela's capital city.
The protest was part of a week of unrest following a Supreme Court ruling nullifying congress. That decision was walked back. But the country in the midst of an economic crisis has since seen near-daily protests by people calling for new elections.
Ortiz was a 19-year-old student at a local university, the local mayor's office said. Similar anti-government protests in 2014 left dozens dead.
The opposition has been calling for immediate elections. With both Capriles and Lopez now out of action, it's unclear who the leading candidate in such an election would be.