Use Of Excessive Force At The Border Needs Better Tracking: Report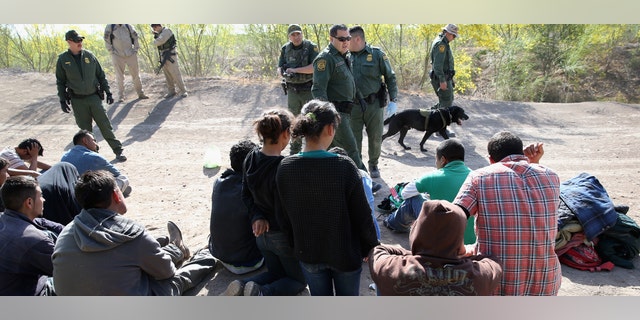 A widely anticipated federal report revealed that the Department of Homeland Security's Office of Inspector General could not come up with a tally of excessive force allegations against Border Patrol agents and customs officers. The reason? The agency's databases do not allow them to be categorized that way.
The report contained little discussion on the use-of-force policies, but recommended improvements to training and the tracking of such allegations.
The report was requested last year by 16 members of Congress concerned with the case of 42-year-old Anastasio Hernandez, who died after being shocked several times with a stun gun at San Diego's San Ysidro border crossing in May 2010. The letter lawmakers sent requesting the review said, "We are also concerned that this incident is simply part of a larger cultural problem at the Department."
The Justice Department's investigation into his death —one of at least 19 deaths since 2010 that the American Civil Liberties Union attributes to U.S. Customs and Border Protection — continues.
The ACLU said Tuesday the report was a good first step, but that more is expected.
"OIG should treat this report as only a first installment and proceed to fulfill the entirety of what members of Congress requested, which was a thorough assessment of CBP's policies, including the adequacy of transparency and accountability for the agency's troublingly frequent use-of-force incidents," ACLU policy counsel Chris Rickerd said.
CBP also has faced fierce criticism for policies that allow agents to respond to rock throwers with deadly force, a response CBP says is justified by the danger. Eight people have been killed by Border Patrol agents in rock throwing incidents since 2010, according to the ACLU. And the report found that of 185 rock assaults in fiscal 2012, agents responded with firearms 12 percent of the time.
Shawn Moran, vice president of the National Border Patrol Council, a union representing agents, said they are satisfied with the agency's use-of-force training.
"We feel that the training is top notch for use of force and our agents use it reluctantly," Moran said.
CBP began its own internal review of deadly force incidents in November, in addition to an independent review contracted to the Police Executive Research Forum. Specific references to the findings of both were redacted from Tuesday's report, which said recommendations were under consideration by the acting CBP commissioner.
The inspectors did credit the agency for beginning field audits last year to evaluate use-of-force training outside of the academy. But the report said follow-up needs to be formalized and the staff expanded.
It noted that one such audit revealed that "many agents and officers do not understand use of force and the extent to which they may or may not use force." The recommendations that followed were redacted, but CBP said it was an isolated finding that was immediately addressed.
Some critics have blamed a rapid increase in Border Patrol agent staffing for deterioration in the quality of recruits and their training. Border Patrol increased the number of agents on the Southwest border by 63 percent from 2006 to 2009. But the report concluded the increase didn't impair training on how and when to use force.
Still, inspectors recommended the training be improved, especially with scenario-based exercises, saying academy graduates leave with the necessary tools and tactics, "but are not fully prepared for possible real-life situations they might encounter."
CBP plans to build a mock border fence, for example, to practice scenarios there where rocks are often thrown at agents, but funding has delayed its construction, the report said.
Based on reporting by The Associated Press.
Follow us on twitter.com/foxnewslatino
Like us at facebook.com/foxnewslatino