US warship possibly targeted by Yemen rebels for a third time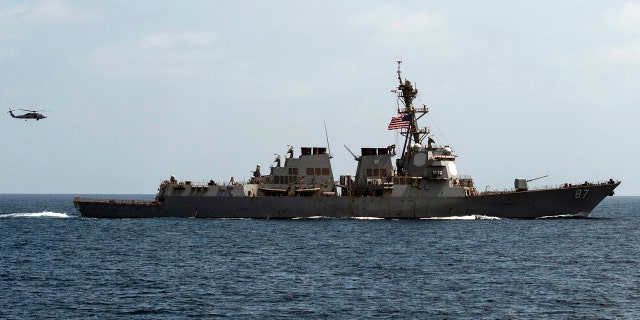 Iran-backed Houthi rebels in Yemen may have launched missiles at U.S. Navy ships for the third time this week, defense officials said Saturday.
Initially, a U.S. defense official said multiple missiles were fired at three ships patrolling international waters at around 3:30 p.m. ET. U.S. Chief of Naval Operations Adm. John Richardson appeared to confirm that assesment, telling reporters the vessels seemed "to have come under attack in the Red Sea, again from coastal defense cruise missiles fired from the coast of Yemen."
However, a Pentagon official later said only that the vessels "detected possible inbound missile threats and deployed appropriate defensive measures."
The official added that all U.S. warships and vessels in the area were safe and that "post-event assessment is ongoing," but declined to give further details.
Two guided-missile destroyers, the USS Mason and USS Nitze, as well as the amphibious transport ship USS Ponce were patrolling north of the Bab al-Mandeb Strait, which connects the Red Sea to the Gulf of Aden, when the incident occurred.
The USS Mason launched countermeasures, according to one official, likely using SM-2 surface-to-air missiles to engage the possible Houthi cruise missiles.
The incident occurred two days after President Obama authorized a Tomahawk cruise missile strike against three Houthi radar facilities in Yemen in retaliation for two missile attacks against the US Navy ships earlier in the week.
A U.S. official told the Associated Press that additional radars could have been used in Saturday's reported attack.
The American cruise missile strike from USS Nitze, which U.S. officials said destroyed the radar installations, marked the first direct US involvement in Yemen's two-year civil war.
The United States has supported a Saudi Arabia-led coalition against the Houthis over the past year with intelligence, weapons and mid-air refueling aircraft.
The first Houthi missile attack against the U.S. Navy ships occurred Sunday, shortly after a coaltion jet bombed a funeral party, killing 140 people and wounding hundreds more.
Earlier this month, a Houthi missile from Yemen destroyed a United Arab Emirates-flagged auxiliary vessel that had once been owned by an American company.
Fox News' Lucas Tomlinson and the Associated Press contributed to this report.