US spy satellites detect North Korea moving anti-ship cruise missiles to patrol boat
Despite the United States' insistence that North Korea halt its missile tests, U.S. spy agencies detected the rogue communist regime loading two anti-ship cruise missiles on a patrol boat on the country's east coast just days ago.
It's the first time these missiles have been deployed on this type of platform since 2014, U.S. officials with knowledge of the latest intelligence in the region told Fox News on Monday.
It also points to more evidence that North Korea isn't listening to the diplomatic threats from the West.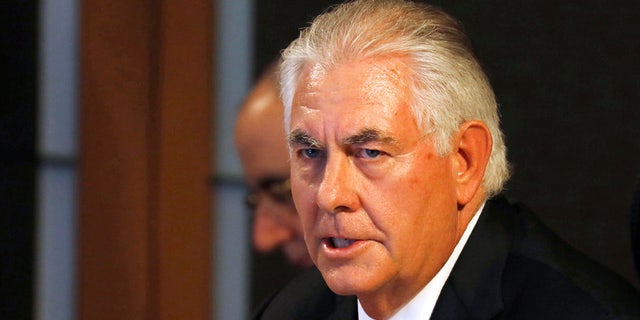 "The best signal that North Korea could give us that they're prepared to talk would be to stop these missile launches," Secretary of State Rex Tillerson said in the Philippines Monday.
North Korea loaded two Stormpetrel anti-ship cruise missiles on a Wonsan guided-missile patrol boat at Toejo Dong on North Korea's east coast.
"North Korea is not showing any evidence it plans to halt its missile tests," said one official who requested anonymity to discuss sensitive information. "It's a trend that does not bode well for hopes of de-escalating tensions on the [Korean] peninsula."
The latest moves by Pyongyang point to a likely missile test in the days ahead or it could be a defense measure should the U.S. Navy dispatch more warships to the Korean peninsula, officials said.
President Trump on Monday afternoon voiced his displeasure about the coverage of the unanimous U.N. Security Council vote over the weekend to sanction Pyongyang. "The Fake News Media will not talk about the importance of the United Nations Security Council's 15-0 vote in favor of sanctions on N. Korea!" Trump tweeted.
Meantime, there currently are limits to the size of the warheads South Korea is allowed to deploy on top of its missiles. But following a talk between leaders of South Korea and the United States, the Pentagon is working on allowing changes to the policy.
"Yes, we are working on it," said Capt. Jeff Davis, a Pentagon spokesman. "It's a topic under active consideration here, and I would tell you that we would be favorably inclined to do anything which furthers the defensive capabilities of South Korea."
The United States removed its tactical nuclear missiles from South Korea in 1991.