US, South Korea warn North Korea using bullhorn on armistice violations, reports say
U.S. and South Korean authorities used a bullhorn to reprimand North Korea regarding several armistice violations, with at least one U.S. Navy official reportedly standing in the rain at the Demilitarized Zone to admonish Kim Jong Un's regime that "this sort of thing should never occur again."
The violations occurred after several of the Hermit Kingdom's soldiers chased a comrade who was defecting to South Korea earlier this month.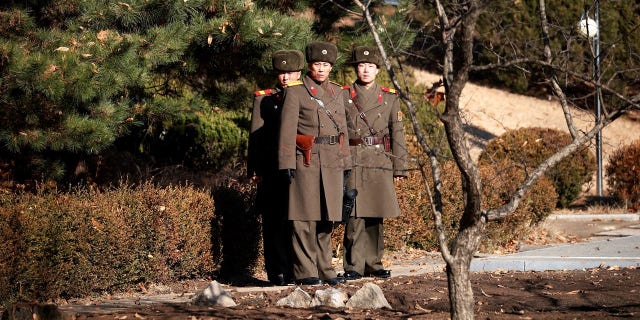 U.S. Navy Lt. Cmdr. Daniel McShane, of the UNC Military Armistice Commission, told Stars and Stripes he stood in the rain at the Demilitarized Zone and read out the list of violations the North Korean soldiers committed on Nov. 13 while they attempted to stop the defector, identified as Oh, from surviving his bid. McShane said he and a Korean translator read a note six times requesting a meeting with North Korean officials.
"To my knowledge they haven't acknowledged this event at all other than the initial firing," McShane said.
SOUTH KOREA TAUNTS NORTH KOREA OVER DEFECTING SOLDIER BY BROADCASTING NEWS THROUGH LOUDSPEAKERS, REPORT SAYS
He said he initially read the admonishment three times, but the North Korean soldiers, using a flashlight as their main communication, told him to repeat it so they can videotape it.
"We were about 30 feet from the [Military Demarcation Line] and they came up to 10 feet," McShane said. "We have a phone in our office, but they're not answering."
South Korean Minister of Defense Song Young-moo also issued his stern warning while standing where Oh collapsed into a pile of leaves with five gunshot wounds at the Joint Security Area, Reuters reported. Song was visiting the DMZ and commended the South Korean soldiers at the JSA.
"Shooting towards the South at a defecting person, that's a violation of the armistice agreement," Song said, according to Reuters. "Crossing the military demarcation line, a violation. Carrying automatic rifles [in the JSA], another violation."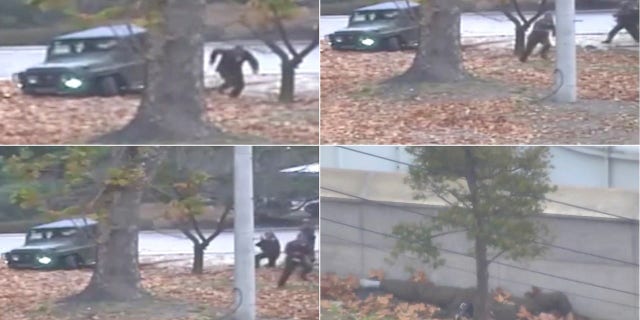 He added: "North Korea should be informed this sort of thing should never occur again."
The defense minister was just 11 yards away from a new trench and trees the North Korean soldiers planted, possibly to prevent more defectors from copying the Nov. 13 incident, Reuters reported. Four of Kim Jong Un's soldiers were reportedly seen listening closely to the message.
South Korea has been reportedly taunting the North by blasting updates about the defector's health and status through its military's loudspeakers at the DMZ, Yonhap News Agency reported on Sunday. The loudspeakers have been sporadically turned on since the end of the Korean War for psychological warfare. Sunday's update included information about the former soldier's "nutritive conditions," seemingly taking a hit at the Hermit Kingdom's alleged health issues.
The broadcasts are reportedly so loud that people within 12.4 miles from the DMZ are able to hear it, though it's unclear how many North Koreans actually live that close to the DMZ.
POSSIBLE NORTH KOREA DEFECTORS MAY BE OCCUPANTS OF SKELETON-FILLED GHOST SHIP FOUND ON JAPAN COAST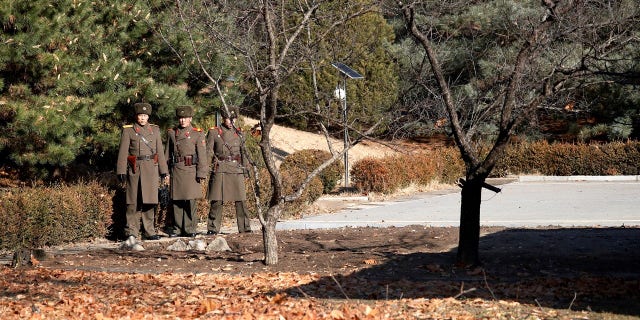 Oh is said to have regained full consciousness and is recovering from his bullet wounds after undergoing two major surgeries. Dramatic video released last Wednesday showed the soldier running across the JSA as his fellow comrades watched in amazement, then chased and fired dozens of rounds to prevent him from making it across alive. He fell into a pile of leaves against a small wall before being dragged to safety by South Korean troops.
Days after the defection, North Korea has reportedly replaced all of its security force of 35 to 40 men at the JSA, Yonhap News Agency said, citing an unnamed intelligence source. The source also told the South Korean news site the North seems to have temporarily closed a bridge over which the defector drove a military jeep to reach the border before his escape on foot last Monday.
The source said the North could be preparing to install a security gate at the bridge for strengthening its screening of personnel coming in and out of the area.
The Associated Press contributed to this report.