US officials concerned about possible coup in Venezuela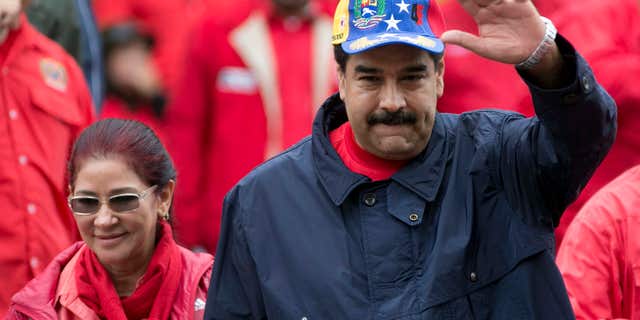 NEWYou can now listen to Fox News articles!
Venezuela is descending into a deepening crisis that could end in violence, including the possibility of a coup against that country's embattled leftist government, senior U.S. intelligence officials said Friday.
There is a "potential for real violence," one of two officials said in a briefing with a small group of reporters. "It's hard for me to see how this ends easily."
The officials, who have extensive experience in the region, said that they and others in the intelligence community increasingly believe that President Nicolás Maduro could be removed from office, either in a "palace coup" led by associates close to him or in a military uprising. They said that the possibility of an overthrow or street violence is of concern to American officials, who want to avoid anarchy in an oil-rich country just a three-hour flight from Miami.
"The goal is to mitigate the crisis that they're experiencing," said the official. "It's in the United States' interest that Venezuela not bottom out."
He said, however, that Washington's options are limited because of Mr. Maduro's antipathy toward the U.S., which he frequently blames for orchestrating "an economic war" designed to destabilize his government.
"The more the United States intervenes," he said, "the more we're the problem."
Venezuela's information ministry and Mr. Maduro's office didn't respond to requests seeking comment. But the president on Friday said that he was declaring what he called a state of exception and economic emergency to deal with both the economic crisis and threats against his rule.
Mr. Maduro didn't detail what the decree's reach would be, but he said the decree gives him the power to repair the economy and "neutralize and defeat the external foreign aggression that has been initiated against our country." He didn't provide evidence of threats Venezuela faces nor did he elaborate on the measures he might take with his new powers.
U.S. officials have been closely following the growing degradation in Venezuela, characterized by acute shortages of basic foods and medicines, which doctors say has caused deaths that could have been easily prevented. Rolling blackouts and electricity rationing keep much of the country in the dark for hours on end. With foreign reserves running low, imports have fallen hard.
Venezuelan government officials are concerned the discontent could lead unnamed people to move against Mr. Maduro, who has ruled for three years, the intelligence officials said.
"We're seeing the government concerned" about an overthrow, the second intelligence official said. "They're paranoid about the question of a coup."
Mr. Maduro also faces the possibility of a recall referendum, which the opposition has pledged to stage, as permitted in the constitution.
The intelligence officials, though, say the president is trying to delay the validation of signatures to trigger a referendum until next year. A recall then would only remove Mr. Maduro, with the rest of his term to be finished by his vice president. If the vote takes place this year, not only would Mr. Maduro be out of a job, but new elections would be called, a far better scenario for the opposition.