US-born woman son, 3, critically injured after giraffe tramples them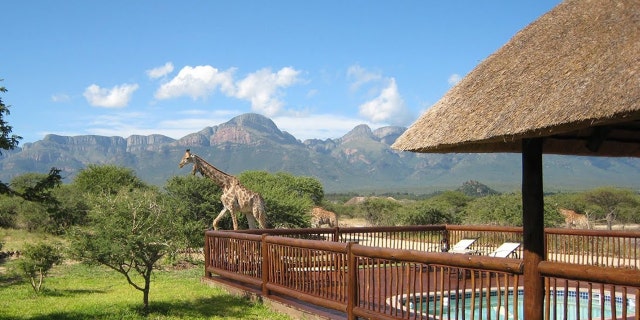 NEWYou can now listen to Fox News articles!
A brave British dad chased off a giraffe after the animal trampled on his wife and three-year-old son in South Africa, leaving them critically injured.
Dr. Katy Williams, 35, and her son Finn were "covered in blood" and have undergone surgery after the attack near their home on the Blyde Wildlife Estate near Hoedspruit.
The scientist and her son were only saved from the female giraffe when her Brit husband Dr. Sam Williams confronted the beast.
The attack comes just months after a cameraman died after being head-butted by a giraffe while working on TV drama "Wild at Heart."
Husband Sam was returning home from work around 6pm on Monday evening and saw his U.S.-born wife and son under being viciously attacked.
Sam, a scientist who works alongside his wife on the reserve, then called for emergency services and the Hoedspruit Medical Rescue team raced to the scene.
The giraffe, which had a two month old calf with it, is believed to have attacked the young mother and her son because it felt under threat when they surprised her.
Katy and Finn were waiting close to the family home for her husband to return from his daily training run in the hills on the nature reserve when they were trampled.
This story originally appeared on The Sun. Read more content from The Sun here.