US Air Force jets take off from Guam for training, ensuring they can 'fight tonight'
Shortly before North Korea revealed that it was considering a plan to fire missiles at Guam, two U.S Air Force B-1B bombers, under the command of the U.S. Pacific Air Forces, joined counterparts from South Korea and Japan in strategic bilateral missions.
The roughly ten-hour mission from Guam's Andersen Air Force Base on Monday marked the first for the crews and aircraft recently deployed from Ellsworth Air Force Base, S.D., in support of U.S. Pacific Command's Continuous Bomber Presence missions, Pacific Air Forces Public Affairs stated.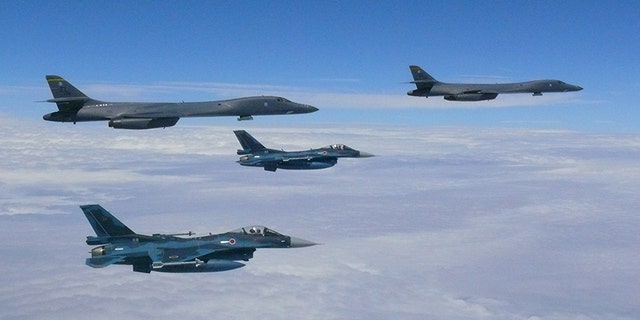 "How we train is how we fight and the more we interface with our allies, the better prepared we are to fight tonight," one 37th EBS B-1 pilot said.
Aircrews practiced intercept and formation training, giving them an opportunity to improve their combined capabilities and tactical skills while augmenting relations between the long-standing allies in the Indo-Asia-Pacific region.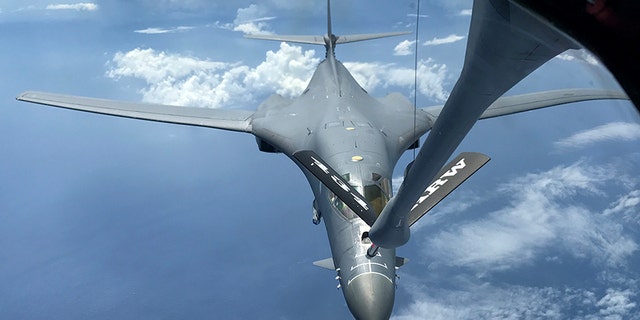 The timing could not be more pertinent.
NORTH KOREA TRAVEL RULE BOOK: HOW TO BE AN OBEDIENT TOURIST IN THE HOSTILE NATION
North Korean state media declared Wednesday that its potential missile strike would create an "enveloping fire" around Guam and that a ballistic missile operation unit for the dictatorship is slated to review launch plans in early September. According to the Korean People's Army statement, its particular focus would be on the Andersen Air Force Base where nuclear-capable bombers are stationed.
On Tuesday, President Trump warned that the regime "will be met with fire, fury and frankly power, the likes of which the world has never seen before," if threats escalate. He was referring to a report -- confirmed by Fox News -- that North Korea has produced a compact nuclear warhead that can be placed inside one of its advanced missiles – which are already believed to be capable of reaching half of the United States.
NORTH KOREA CONSIDERING FIRING MISSILES AT GUAM, PER STATE MEDIA
Fox News visited Ellsworth last year to see the bombers up close. Only about 50 percent of the Air Force's B1s can fly right now, according to Air Force statistics. Budget cuts are to blame, according to pilots and airmen. The Air Force is said to be short around 400 pilots right now and 4,000 mechanics.
Fox News' Lucas Tomlinson contributed to this report.