Unsettling surveillance video captures moment 7-year-old is shot in Boston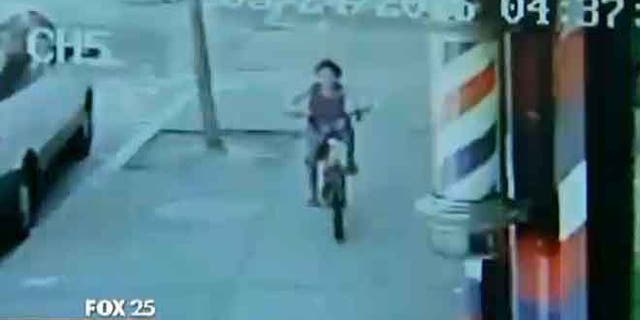 NEWYou can now listen to Fox News articles!
A surveillance camera recorded the unsettling moments when a young Massachusetts boy was shot as a hail of bullets erupted on the streets of Boston.
Police are now searching for the ma who opened fire on a busy street in the city's Dorchester section, where 7-year-old Divan Silva was shot Sunday afternoon while riding on his bike.
Silva, who was shot in the buttock, is now recovering at Boston Children's Hospital and is expected to be released sometime on Wednesday.
In the grainy private surveillance video of the shooting, Divan is seen riding down a street and approaching of local barber shop, where he wobbles a bit before rolling his bike up on the sidewalk. He then shifts his weight onto his right side, sees the blood coming from his left buttock and attempts to stop the bleeding by putting his left hand on the wound.
Boston News, Weather, Sports | FOX 25 | MyFoxBoston
His mother, Dijanira DeAndrade, arrived soon after hearing the four shots erupt on the street.
"He knew he was bleeding. He was touching the blood," DeAndrade told the Boston Globe, who obtained a copy of the surveillance video. "I kept telling him to stay awake, not to close his eyes. He stayed awake the whole time. . . . He stayed really strong for me."
While Divan told reporters that his wound "hurt a little," he appears to be in good spirits and his appetite has remained intact.
"He's doing great," DeAndrade said. "He's a very strong boy."
Along with Divan, CBS News in Boston reported that a 20-year-old man was also grazed in the head and is expected to recover.
Boston's Police Commissioner William B. Evans visited the family earlier this week and promised them that law enforcement would find the man who fired the gun on Sunday.
"I apologized that something like this would happen," Evans said. "It's sort of sad that I'm having this conversation with a 7-year-old boy and his mother."
Police in Boston said they are looking for a male between 14 and 18 years old wearing a red hoodie, white shorts and white sneakers. He was described as heavy set and 5 feet 8 inches tall.
Investigators are still trying to determine who the target of the shooting was as not many people have come forward to speak to police, a fact that Evans said was "disappointing."
Boston's Mayor Martin J. Walsh said that Dorchester residents are deeply upset by the shooting and that overall Boston has seen an increase in gun violence recently.
"People are upset. No one is happy with that," Walsh said. "Our goal is to eliminate shootings in the city of Boston."
Like us on Facebook
Follow us on Twitter & Instagram