Unsettled Rooney proves fitness in friendly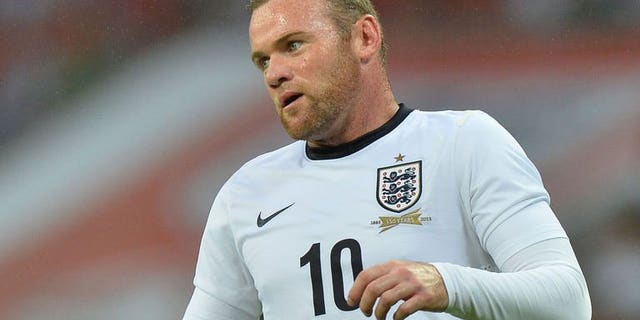 LONDON (AFP) – Wayne Rooney finally got the chance to prove his fitness as the unsettled Manchester United striker played for 66 minutes of England's 3-2 win against Scotland at Wembley on Wednesday.
Rooney is reportedly keen to leave Old Trafford amid interest from Chelsea and has missed his club's entire pre-season campaign, sparking speculation United manager David Moyes had banished him in frustration at his stance.
Moyes had said the 27-year-old's shoulder injury meant he wasn't ready to feature in United's 2-0 win over Wigan in the Community Shield on Sunday, but England boss Roy Hodgson felt the forward was in good enough shape to start the friendly and named him at the tip of his three-man attack.
Rooney showed plenty of signs of rust in an erratic display, but his shoulder didn't look to be troubling him and Moyes, working as a television pundit, said he was happy to see the striker back in action.
"Everybody likes to see Wayne Rooney playing well," Moyes told ITV. "He has only played 45 minutes all pre-season (in a behind-closed-doors friendly against Real Betis) so he needs games.
"It's pre-season, you've got to get your players fit, so it is a plus that he is getting a bit of a go tonight."
Hodgson insisted Moyes fully supported his decision to select Rooney, but he admitted he was determined to avoid over-working the former Everton star.
"We have been in constant contact with Manchester United and they were happy for Wayne Rooney to play, but we have to be careful with him," Hodgson said.
Given his lack of match practice, it was inevitable Rooney, often a sluggish performer when returning from injury, would find it difficult to stamp his authority on proceedings.
His first contribution was to completely miscue an attempted shot as he met a Leighton Baines cross at the near post in the opening moments.
He showed flashes of inspiration, clipping two perfectly-weighted passes into Theo Walcott in the penalty area, but his touch let him down too often and betrayed his rustiness.
When Rooney finally got a shot away in the closing stages of the half the 20-yard strike never seriously threatened to beat Allan McGregor as it curled harmlessly wide.
Hodgson kept Rooney on after half-time but there was still a lack of rhythm about his play as he sprayed a careless pass out for a throw after dropping deep in a vain bid to influence the game.
That was Rooney's last contribution as he was replaced by Rickie Lambert midway through the second half.
Now all eyes will turn to Swansea's Liberty Stadium on Saturday to see if Moyes brings Rooney in from the cold for United's Premier League opener.