Unrest Continues in Bahia Ahead of Brazil's Carnival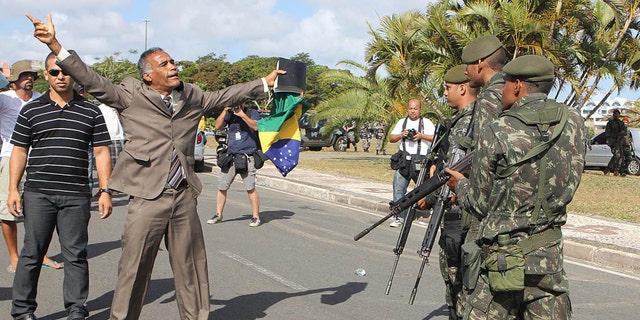 One week in the ongoing police strike, Salvador - one of the popular tourist cities in Brazil – has been stricken with violent unrest. Over the last three days, commerce has closed in downtown and in other central areas such as Rio Vermelho neighborhood.
Since the strike began, over 100 homicides were reported in the capital of the state of Bahia, but independent sources says that at least one person per hour is being shot to death. There are also incidents of arson in buses, vandalism and store assaults.
Brazil Zoo Sends Beached Penguins to California
On Monday, a decree from the Justice of Bahia stated that the strike was illegal and called for the arrest of all officials involved. Nearly 3,000 soldiers are in Salvador after the state's governor, Jacques Wagner, requested the intervention from the Brazilian Army to reestablish the public order. The request was authorized by the National Council of Security and Brazilian President Dilma Rousseff.
With Carnival – the city's largest tourist event – only two weeks away, many Baianos are also worried about safety during the event as well as the profits that could be lost because of the turmoil related to the strike. Governor Wagner, who is not negotiating the 6.5 percent salary increase for the officers, said in a speech that Bahia will invest $ 16 million to enforce the law in the next few weeks and promised the strike would end on Wednesday.
"With the help and pride of baianos, we're gonna make the biggest party in the world. It will be the biggest military operation out of a war," Wagner stated, adding that nobody was killed at the last Carnival.
A lot of demonstrators are showing solidarity for the police officers and challenging the Brazilian Army in front of the Bahia's state assembly. According to the governor, however, most of the violent attacks are being committed by the strikers. "These officers are bandits, they will be punished and we cannot attend their claims", promised Wagner, citing the fact that all public employees of his state had earned a 65 percent salary increase in January.
Latinas Dominate Victoria's Secret 2011 Fashion Show
Urban safety in Brazil is a responsibility of the states. In Bahia, the officers have a monthly salary of $1,250. In the northeastern state, violence has increased significantly and the Consejo Ciudano, from Mexico, says Salvador is the 22nd bloodiest city in the world.
Salvador has a population of 2,6 million inhabitants and receives 600,000 tourists during the four days of Carnival celebrations. It is considered the second most important tourist destination in the country – just behind Rio de Janeiro.
Based on reporting by the Associated Press.
Follow us on twitter.com/foxnewslatino
Like us at facebook.com/foxnewslatino