UN report blasts Syrian regime, militias for carrying out chlorine attacks and war crimes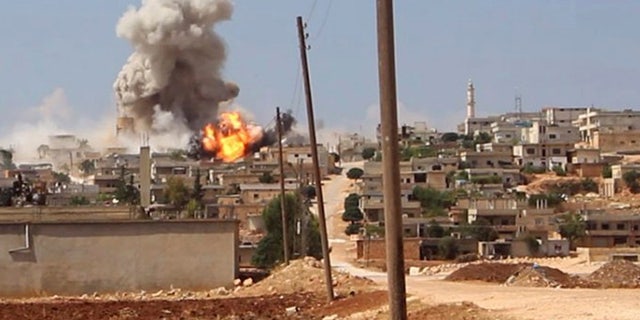 A U.N. commission tasked with investigating battles in Syria has accused the Assad regime and affiliated militias of carrying out war crimes as it released a damning report Wednesday highlighting atrocities that have "collectively displaced more than one million men, women and children."
The 24-page document by the Independent International Commission of Inquiry on the Syrian Arab Republic focuses on happenings inside Syria between January and July of this year. It is based on hundreds of interviews, satellite images, videos, medical records and government communications during that time period, among other sources.
"The Commission finds that pro-government forces committed the war crimes of deliberately attacking protected objects, intentionally attacking medical personnel and using prohibited weapons, and that, on four occasions, pro-government forces did not direct attacks at a specific military objective, which amounted to the war crime of launching indiscriminate attacks in civilian areas," the report says.
GERMANY IN TALKS WITH US ON POSSIBLY JOINING AIRSTRIKES IN SYRIA IN THE EVENT OF CHEMICAL ATTACK: REPORT
"On 4 February, at approximately 9 p.m., Government helicopters dropped at least two barrels carrying chlorine payloads in the Taleel area of Saraqeb," another excerpt of the report says.
On April 7, "numerous aerial attacks were carried out in Douma, striking various residential areas," it adds.
"A vast body of evidence collected by the Commission suggests that, at approximately 7.30 p.m., a gas cylinder containing a chlorine payload delivered by helicopter struck a multi-story residential apartment building," the report continues, noting that the attacks left at least 49 people dead that day and wounded another 650.
The report also cites chemical weapon use in Ghouta, outside the Syrian capital of Damascus.
US NAVY FIGHTER PILOT RECEIVES VALOR AWARD FOR SHOOTING DOWN SYRIAN JET IN 2017
"In an unprecedented development during the period under review, warring parties carried out battles in Aleppo, northern Homs, Damascus, Rif Damascus, Dara'a and Idlib governorates, which collectively displaced more than 1 million Syrian men, women and children," it says.
Meanwhile, government forces have been massing troops on the edge of Idlib in preparation for an offensive on the last major rebel stronghold in Syria, according to the Associated Press.
"Idlib should not become the next massacre, the final massacre in the battles in Syria and common sense now needs to prevail," Commissioner Hanny Megally told reporters after the release of the report. The civilian population "should not be held hostage to a war on terror."
U.N. Special Envoy to Syria Staffan de Mistura said last month that 10,000 Al Qaeda-linked fighters and their families are located in the densely populated region, which is now home to 2.9 million people. Many of those have been displaced from other parts of Syria in recent years.
Commission Chair Paulo Pinheiro said the presence of 3 million civilians in the area is "something that has to move the powers involved in the decision."
"You are fighting 10,000 armed people, terrorists, and the 3 million population will be the price to fight," said Pinheiro. "Of course we don't have anything against fighting terrorists but something has to be done to protect the rights of the 3 million people and (including) 1 million children."
"All the other disasters would be minor events compared to what can happen in Idlib," he said.
The White House warned Assad last week that if he chooses to use chemical weapons in the offensive against Idlib, the U.S. and its allies "will respond swiftly and appropriately."
The Associated Press contributed to this report.