UN refugee agency handed over hundreds of millions to partners without monitoring, report says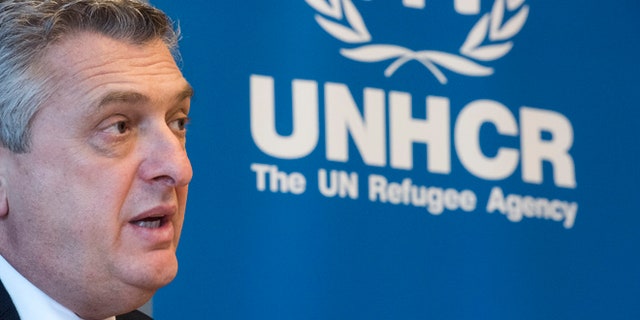 NEWYou can now listen to Fox News articles!
EXCLUSIVE: Over the last two years, as the global refugee crisis spiraled out of control, the United Nations' refugee organization has handed over nearly a billion dollars to private organizations and national governments, much of it without verifying whether those partners had the expertise to buy the goods, or the means to detect fraud in the purchases, according to a report by a U.N. watchdog.
More than $400 million of the United Nations High Commissioner for Refugees money was handed over to partners last year-- within twelve months after the organization had put in place a mandatory policy intended to streamline partnership arrangements and bring partner policies in line with UNHCR's own procedures.
At the same time, UNHCR, as the relief body is known, was doing little or nothing on its own to monitor how well the partners were handling its procurement money, according to the watchdog report.
That inaction came despite internal warning signs that showed projects with "systematic weaknesses" in procurement, including mismatched paperwork, spending on purchases that went beyond authorized levels, and "unsatisfactory" bidding procedures for relief goods.
The blunt audit by the U.N.'s Office of Internal Oversight Services (OIOS) was issued in April, and could be described as "remarkably tough," according to Brett Schaefer, an expert on U.N. finances at the conservative Heritage Foundation, who examined it at Fox News' behest.
"It identifies serious problems in UNHCR that could lead to serious lapses in terms of fraud," Schaefer declared, at a time when U.N. Secretary General Ban Ki-moon himself has been calling for vastly greater spending and efforts by wealthy countries to deal with the refugee crisis.
Interestingly enough, the head of UNHCR during the period covered by the OIOS report was Antonio Guterres, a Socialist former Prime Minister of Portugal who has declared himself a candidate for Ban's job when the Secretary General leaves office at the end of the year.
The saga of inaction, bureaucratic incoherence and apparent unconcern about the spending of huge amounts of cash at UNHCR is the latest symptom of problems for the U.N. system as a whole, as it leans more and more on government and private partnerships to take the lead on a proliferating array of issues, ranging from humanitarian and environmental concerns to its nebulous and newly-approved Sustainable Development Goals.
Overall concern about U.N. partnerships was outlined by the U.N. itself in 2014, in a broader report by another watchdog that warned of "the lack of adequate managerial control" over such relationships where "third parties" carried out U.N. goals.
As it happens, 2014 is also the year in which UNHCR unveiled its new "Policy and Procedures on Procurement by Partners with UNHCR Funds," to deal with the fast-developing trend.
By that time, according to UNHCR documents, the organization already had 1,653 partnership agreements with 913 partners with a value of $1.35 billion—roughly 40 percent of UNHCR's overall spending.
Of that total, according to the OIOS report, about $505 million was spent that year for partner procurement, a number that dropped to $404 million in 2015.
The 2014 policy gave tough instructions to the agency's offices and bureaus around the world, as well as at UNHCR's Geneva headquarters, to conduct cost-benefit analyses before using such partners, doing careful "pre-qualification" diligence before giving them authority to spend more than $100,000, and carefully monitoring partners' actions "to achieve value for money."
Unfortunately, according to the OIOS report, little or none of that happened.
Using a sample of 16 countries—UNHCR operates in 129 countries overall—the OIOS auditors spent three months looking at the agency's operations for eleven months from the launching of the new partnership policy in November, 2014, to September, 2015.
They discovered, among other things:
• None of the 16 country offices did the cost-benefit analysis demanded by their new policy before deciding to use a partner for procurement, or even analyzed whether buying by partners was required at all.
• In 12 of the 16 countries, UNHCR officials did not even assess their partners' abilities to carry out such procurement "at the required scale," or their "experience and expertise" at such purchasing. In one country, Myanmar, OIOS reported that the UNHCR office said "it was not aware" it had to carry out any such assessment.
• In the remainder, where assessments were carried out, the report says, they were "inadequate," and did not verify information provided by the partners.
• A review of the 16 countries also showed that UNHCR offices "had not systematically ensured that partners had policies and procedures to prevent, investigate and discipline fraud." Some had written policies, but no staff training to back them up.
• The 2014 policy demanded that UNHCR and its partners "establish a joint plan to closely support and monitor implementation of procurement activities," which happened haphazardly at best. In South Sudan, for example, only four of 21 partners had been visited by October 2015.
• Laxness in the field was matched, according to the report, at UNHCR headquarters, often with the excuse that resources for the job were unavailable. According to OIOS, monitoring consisted of looking over project audit reports for mentions of procurement activities, which, said the watchdogs dryly, "in the opinion of OIOS… could not be termed as monitoring."
• A bigger untended job, according to the report, was assessing the qualifications of partners given a bigger blank check than the $100,000 minimum for making relief purchases. Based on 2014 data, some 328 partners required pre-qualification vetting, and 17 had procurement budgets ranging from $1 million to $38 million. At the time of the audit, only three had been cleared under the new policy.
• As a result, the OIOS report says, "UNHCR entrusted procurement valued at $316 million to partners who…may have been unsuitable to carry out efficient and cost-effective procurement."
OIOS listed almost all of the fixes required to fix those lapses as "critical," meaning that without them, there were no "reasonable assurances" that UNHCR actually controlled the activities or their goals.
UNHCR responded to the watchdog criticism by agreeing to everything OIOS recommended—which amounted, essentially, to doing what was required to follow its own policies in the first place.
The big question: when?
In the wake of the painful report, UNHCR, under its new High Commissioner, Filippo Grandi, a veteran U.N. bureaucrat, is scrambling to clean up the situation.
For one thing, the pace of "pre-qualification" of UNHCR partners has suddenly accelerated. But most of the agency's response action otherwise consists, in the first instance, of establishing a multi-departmental "task force" to pump out an "action plan" to achieve the goals it had already called for in 2014.
The task force is currently "operational," and "work is in progress, according to UNHCR management's response to the OIOS document. Pieces of the "action plan" are expected to fall into place at various times, starting this August and extending through next year.
The "clear deliverables and time lines" for fraud monitoring, however, were not expected until October 2017.
And according to the report itself, the U.N. organization is not slated to have pulled together all of that action plan until the very end of 2017.
George Russell is editor-at-large of Fox News and can be found on Twitter: @GeorgeRussell or on Facebook.com/George Russell