UN Mission in Colombia suspends 4 observers for attending guerrilla party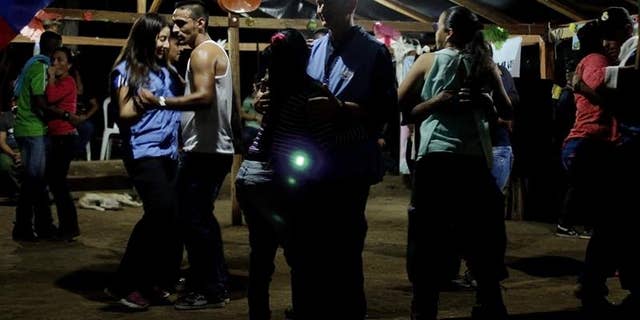 BOGOTA, Colombia – The UN Mission in Colombia on Thursday suspended three observers and their supervisor for attending a New Year's Eve party held by the FARC guerrilla group.
"The Mission reiterates its determination to verify the commitments made by the parties on the cease-fire, end to hostilities and surrender of arms with full impartiality," UN officials said in a statement.
The names of the observers involved in the Dec. 31 incident were not released.
After conducting an investigation, the "decision was made to separate three observers present at the event and their direct supervisor from service," the UN Mission in Colombia said.
The scandal over the observers' presence at the party broke following the release of a video shot by Agencia EFE at a Revolutionary Armed Forces of Colombia (FARC) camp in Conejo, a village in the Caribbean province of La Guajira, where fighters are living before returning to civilian life.
The video shows observers wearing blue UN vests dancing and fraternizing with guerrillas.
The Colombian government on Wednesday expressed its "great concern" to the UN over the observers' behavior and requested that "corrective measures" be taken to avoid a repetition of acts like this one.
On Nov. 24, President Juan Manuel Santos and FARC commander Rodrigo Londoño Echeverri, better known as "Timochenko," signed a revised peace agreement in Bogota, ending the 52-year-old internal armed conflict.
Colombia's civil war - involving the army, the FARC and other guerrilla groups, as well as rightist paramilitaries - has claimed at least 220,000 lives and displaced millions of people.
There are 280 international observers from 14 nations in Colombia: 10 members of the Community of Latin American and Caribbean States and four European countries.