UN envoy Annan says Syria's Assad discussed possibility of transitional government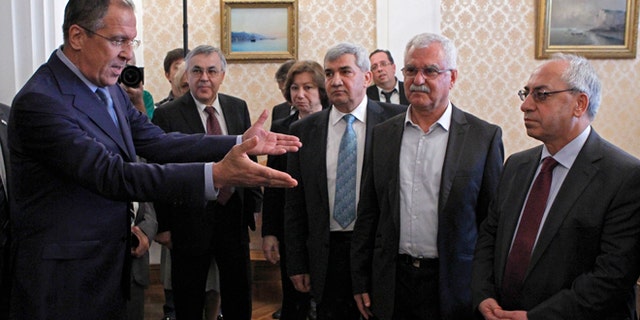 NEWYou can now listen to Fox News articles!
UNITED NATIONS – Syrian President Bashar Assad has discussed the possibility of forming a transitional government for his country as proposed by an international conference in Geneva last month, envoy Kofi Annan said Wednesday.
Annan, the U.N.-Arab League envoy to Syria, said that during his discussions with Assad in Damascus this week the Syrian leader proposed someone who could serve as an interlocutor for the regime as it explores ways of forming a transitional government with the opposition.
Activists estimate that 17,000 people have been killed in the Assad regime's crackdown on a popular uprising that began that began in March 2011. As the conflict has dragged on, the increasingly armed rebellion appears to be getting more radicalized and violent, complicating the goal of a peaceful resolution or transfer of power.
Annan spoke to reporters in Geneva after a private videoconference session with the U.N. Security Council in New York. The envoy did not identify the person whose name Assad put forward, but said: "He did offer a name and I indicated that I wanted to know a bit more about that individual. So we are at that stage."
Annan urged the 15-nation council, the most powerful arm of the United Nations, to send a message to the Syrian government and the opposition that there will be "consequences" if they don't comply with demands for an immediate cease-fire, Britain's U.N. Ambassador Mark Lyall Grant said.
Russia and China, key allies of Assad and veto-wielding council members, have blocked repeated attempts by the United States and its European allies to even threaten "consequences" -- a diplomatic code word for sanctions.
Annan was appointed the special envoy to Syria in February, and in March he submitted a six-point peace plan that he said the Assad regime accepted. It led to an April 12 cease-fire agreement, which has failed to hold.
The U.N. sent a 300-strong unarmed observer mission to Syria for 90 days to oversee the cessation of violence and monitor implementation of the Annan plan. The team was forced to withdraw from key conflict areas because of escalating fighting and the council must decide what to do about extending its mandate, which expires on July 20.
At a conference in Geneva on June 30, Russia insisted that any political transition must have the "mutual consent" of both Assad's government and the opposition, essentially handing a veto on the peacemaking process to both sides.
On the eve of Annan's briefing, Russia circulated a draft resolution to Security Council members that would extend the U.N. observer force mission in Syria but refocus its activities on trying to achieve a political solution to the conflict.
Britain, France, Germany, Portugal and the United States have also been drafting possible texts for a new resolution but were waiting to hear what Annan had to say.
Annan briefed the council on his talks with Assad in Damascus and his visits to Iran and Iraq. He told reporters in Tehran and Baghdad on Tuesday that Assad agreed to a plan to contain the bloodshed in the most violent areas of Syria step-by-step and then expand the operation to the whole country.
Annan said Wednesday, however, that these steps would be incorporated into the broader six-point plan that he has insisted on all along.
"Within that framework the discussion we had was to take action at those locations where one has such horrific violence that you can't get in humanitarian assistance, people who are trapped couldn't get out, and work out cease-fire arrangements at these localities with possibly the help of UNSMIS," Annan said, using the acronym for the UN truce mission.
"This does not free anybody from the broader obligation of the cease-fire as indicated in the plan," he said.