UN declares Saudi woman who fled alleged abusive family a refugee, asks Australia to consider resettlement
The young Saudi woman at the center of a high-profile quest for asylum after she renounced Islam and fled her family's alleged abuse has been declared a legitimate refugee by the United Nations, the Australian government said Wednesday.
The Department of Home Affairs confirmed in a statement that the U.N. High Commissioner of Refugees had referred Rahaf Mohammed Alqunun to Australia for consideration for refugee resettlement.
The 18-year-old arrived in Bangkok on a flight from Kuwait on Saturday, after slipping away from her family while on vacation. She planned to continue to Australia, where she held a tourist visa, but she was first detained by Thai authorities.
CLICK HERE TO GET THE FOX NEWS APP
The woman refused to board a flight back to Kuwait and barricaded herself inside an airport hotel room. There, she grabbed worldwide attention with urgent pleas on social media in which she claimed her family was abusive and would "threaten to kill her for trivial things."
Alqunun said she feared for her safety if forced to return to her family as she had cut her hair and renounced Islam, which is punishable by death in Saudi Arabia.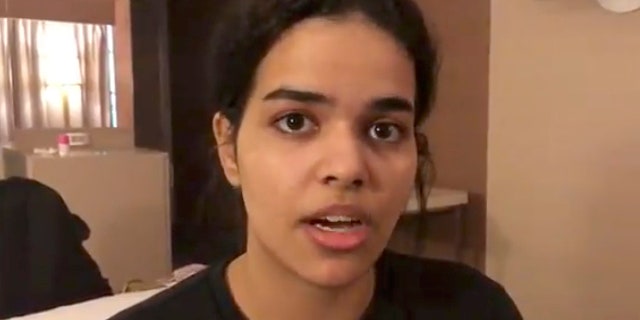 Earlier this week, Alqunun left the hotel room and was allowed to temporarily stay in Thailand after she was placed in the care of the UNHCR while her bid for refugee status was considered.
The UNHCR office in Thailand has declined to comment further.
FATHER OF SAUDI WOMAN IN THAILAND SEEKS MEETING, OFFICIALS MEET TO DISCUSS ASYLUM CASE
According to the BBC, now that Alqunun has been declared a refugee, another country must agree to take her in.
Australia's Home of Affairs Department said Wednesday it would "consider this referral in the usual way" adding that the government would not be making any further comments on the matter.
Yet, indications from Canberra suggest Alqunun may receive a sympathetic hearing.
"If she is found to be a refugee, then we will give very, very, very serious consideration to a humanitarian visa," Health Minister Greg Hunt told the Australian Broadcasting Corp, before the UNHCR's referral.
No other country has publically stated they are considering Alqunun's case.
Later Wednesday, Alqunun tweeted that she was "happy."
A Tuesday statement from the Saudi Embassy in Thailand denied interfering in Alqunun's case and said it was only monitoring her situation. Describing her case as a "family affair," it said Saudi officials had neither seized her passport — as Alqunun had claimed several times — nor demanded her deportation back home.
Meanwhile, the 18-year-old has reportedly refused to meet her father and brother, both of whom flew to Bangkok earlier this week, Thai immigration chief Sarachate Hakparn said.
"He wanted to make sure that his daughter was safe…he told me that he wanted to take her home," he told reporters, according to Reuters.
SAUDI WOMAN, 18, BARRICADED IN THAI HOTEL ROOM TEMPORARILY ADMITTED INTO COUNTRY, MEETS WITH UN REFUGEE WORKERS
Sarachate said her father has denied Alqunun's allegations that her family was abusing her physically or emotionally and that he will remain in Thailand, under the care of the Saudi Arabian embassy.