'Ultra' Music Festival Hires Miami Beach Chief To Oversee Event's Security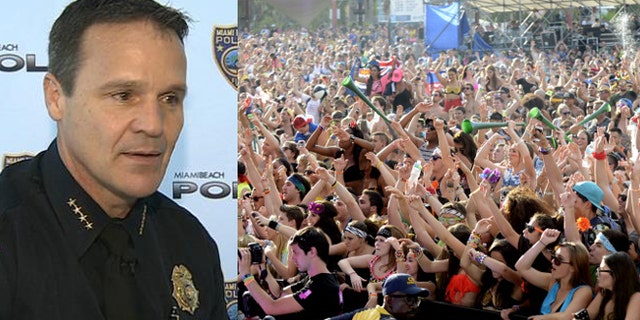 Organizers of Miami's Ultra Music Festival are hiring the outgoing Miami Beach police chief to oversee security after a guard was trampled by gate-crashers during the popular event last month.
Ultra producers announced Friday that retiring Chief Ray Martinez will help the 14-year-old dance music festival strengthen security in future years. Martinez has over 35 years of law enforcement experience including supervising security at events such as Art Basel and Memorial Day weekend.
The festival at Miami's downtown Bayfront Park has come under fire following the trampling of guard Ericka Mack, who suffered a broken leg and serious head injury on March 29. She was released from the hospital last week.
Miami officials are considering whether to halt the festival, which has grown larger and rowdier. Festival producers are doing a complete security review.
There is no word on how much Martinez will make from the ultra security gig but he has a large task ahead of him.
According to the Hollywood Reporter, festival organizers condemned the actions of what they called "unruly gate crashers who lacked tickets" and "engaged in criminal activity" during this year's festival.
Ultra said in a statement that they imposed stringent security measures for the three-day festival. They hired 257 police officers, 18 undercover detail officers (including Homeland security and Drug Enforcement Administration agents), erected a double fence and an 8-foot high security barrier.
According to the Associated Press, 84 people were arrested at this year's festival.
Based on reporting by The Associated Press.
Follow us on twitter.com/foxnewslatino
Like us at facebook.com/foxnewslatino