Ukraine presidential vote won by comedian and actor Volodymyr Zelenskiy in landslide
Volodymyr Zelenskiy got the last laugh.
The comedian and actor, who played his country's president on television, is now set to take on the job in real life after winning Ukraine's presidential runoff vote in a landslide, according to an exit poll released Monday with nearly all the votes counted.
The Central Election Commission said Zelenskiy won 73 percent of the vote, while incumbent President Petro Poroshenko got just 24 percent with more than 96 percent of the ballots counted.
COMEDIAN AND ACTOR ELECTED AS NEW PRESIDENT OF UKRAINE, POLLS SHOW
Poroshenko conceded defeat Sunday, saying he would leave office next month, Sky News reported.
"I'm leaving office, but I want to make it clear that I'm not leaving politics," he said.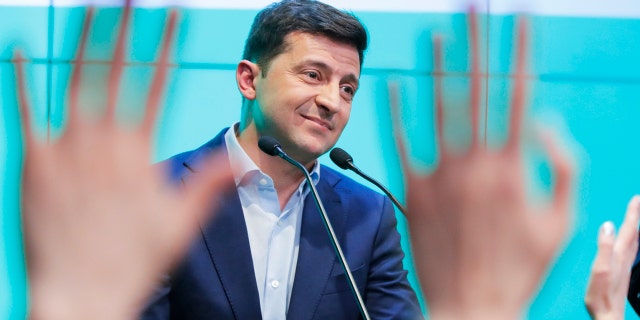 Zelenskiy rode a wave of support in Ukraine's west and east -- areas that have been traditionally polarized -- on his path to the presidency.
One of the campaign themes parroted by the popular 41-year-old television comedian, who has no previous political experience, is a unified Ukraine, a nation which has been in turmoil due to bitter debates about its identity and a separatist conflict in the east fueled by neighboring Russia.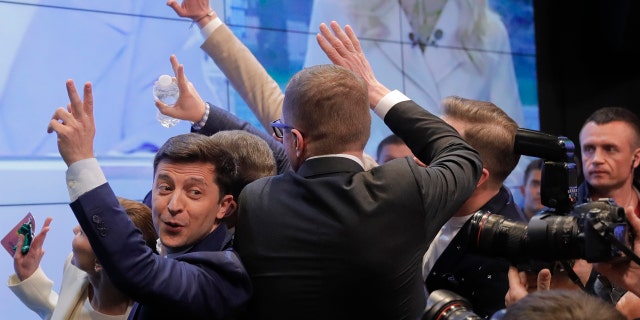 "We did it together," he said after the exit poll was released, thanking his wife, parents and campaign team. "Thanks to all the Ukrainian citizens who voted for me, and to all who didn't: I promise I won't mess up."
COMEDIAN COULD UNSEAT UKRAINE'S POROSHENKO IN THIS SUNDAY'S PRESIDENTIAL RUNOFF
Zelenskiy, a Russian speaker from central Ukraine, has pledged to finally end the war in the country's eastern region and to root out corruption amid widespread fury over soaring prices and falling living standards.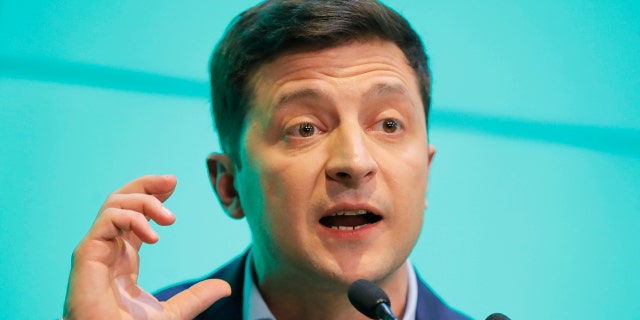 He'll also have to face off against Russian President Vladimir Putin, who has ruled his country for nearly two decades, if he wants to mend relations with Ukraine's powerful, controversial neighbor.
Officials in Moscow on Monday sounded cautiously optimistic -- but also sounded a note of condescension regarding Zelenskiy's victory.
Russian Prime Minister Dmitry Medvedev wrote on Facebook on Monday morning that the election results in Ukraine show "there is a chance to improve the relations with our country after all."
Medvedev, whose government has been supplying Ukrainian separatists with weapons and manpower, expressed hope Zelenskiy would be "pragmatic and responsible" when tackling separatism in the east.
CLICK HERE FOR THE FOX NEWS APP
European officials, on the other hand, pledged strong support for plans to reform the country and fight corruption.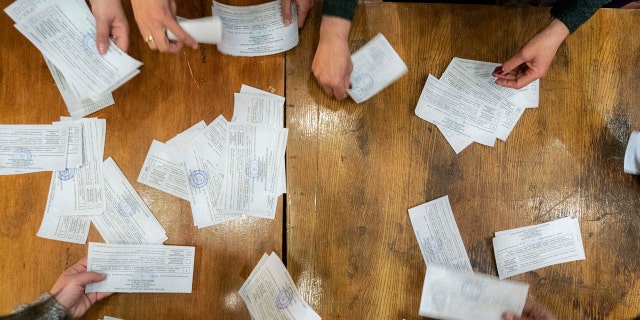 In a joint letter to Zelenskiy on Monday, EU Commission President Jean-Claude Juncker and European Council chief Donald Tusk said the political novice can "count on the EU's continued and steadfast support of Ukraine's sovereignty, independence and territorial integrity."
Juncker and Tusk wrote that "you can count on the EU's strong support to Ukraine's reform path, including consolidating the rule of law, fighting corruption, maintaining macro-financial stability and pursuing the essential reform of the energy sector."
The Associated Press contributed to this report.