Ukraine claims destruction of two insurgent bases in east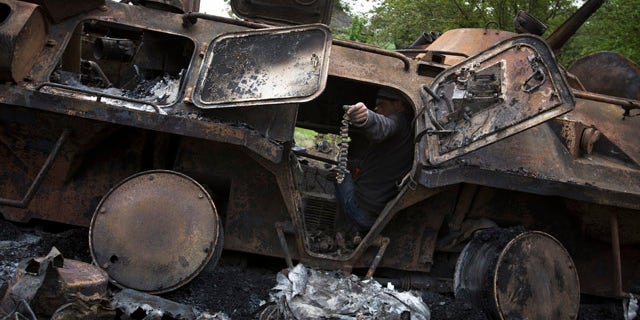 KIEV, Ukraine – The Ukrainian army destroyed two military bases of pro-Russian insurgents in overnight operations, the country's acting president said Thursday, as the government returned to the offensive a day after the start of European-brokered talks which have yet to draw in the warring sides.
Ukrainian forces destroyed an insurgent base outside the town of Kramatorsk, 95 miles west of the Russian border, acting President Oleksandr Turchynov told the parliament on Thursday.
In another operation, Turchynov said troops destroyed an insurgent base in the nearby city of Slovyansk.
Ukraine's defense ministry said there were no casualties while the army took three insurgents captive. One of them had an anti-tank rocket-propelled grenade launcher.
Ukrainian authorities insisted that no "civilian" got caught in the fight.
Insurgents have seized government buildings across eastern Ukraine, fought the Ukrainian military and declared independence as the nation's crisis spilled over from a political meltdown into a military confrontation.
The Organization for Security and Cooperation in Europe, a trans-Atlantic security group, put forward a "road map" calling for national dialogue as a first step toward resolving the escalating tensions. The first round of talks in Kiev produced no visible result as the government has confirmed its refusal to sit down with representatives of the insurgents.
In the east of Ukraine, insurgents also spurned talks, saying any negotiations could only be about the recognition of their independent state and the withdrawal of troops.
The next session of the talks is expected on Saturday.