UK police don't take aim _ but critics open fire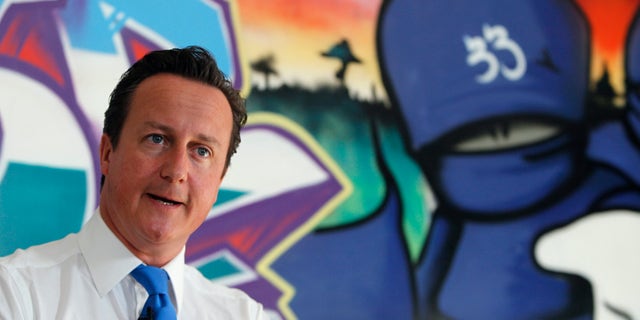 NEWYou can now listen to Fox News articles!
LONDON – Four nights of arson, looting and violence erupted across England's largest cities and left five people dead.
British police didn't fire a single shot.
It's part of a cherished culture of restraint that is now coming under unprecedented pressure, as Prime Minister David Cameron plans major reforms, slashes police budgets and humiliates homegrown talent by calling in American help.
Since the early 19th Century, when legislator Robert Peel launched the world's first modern police department in London, law enforcers in the U.K. have kept the peace by winning the respect of the public, not by instilling fear. They became a world-renowned icon of the capital — nicknamed "bobbies" in Peel's honor.
From the stereotype of a plump and cheerful village officer doffing a tall helmet, to the modern-day community beat teams who helped shopkeepers sweep broken glass from ravaged stores after last week's riots, the country's police have prided themselves on their courteous, low-key approach.
Now sharp cuts to officer numbers driven by Britain's austerity measures, sweeping reforms that threaten to inject politics into decision making, the fallout of England's riots and harsh realities of protecting the public from threats like suicide bombers leaves the country's fabled police in crisis.
Capping the agony, Cameron has turned for advice to ex-Los Angeles, New York and Boston Police Chief William Bratton — dubbed "supercop" after his pioneering approach sent crime rates tumbling in those U.S. cities.
"You are at a turning point," said Maurice Punch, the author of several books on British policing. "What happened last week has just accelerated that, there is now a necessity to have a major review, to take a step back and for the public to ask what kind of policing they want."
Officers and analysts acknowledge the debate is urgent, with London's 2012 Olympic Games looming. But, with relations between Britain's public and its police under strain, there remain deep divisions and uncertainty about whether Britain's cops are too hard or too soft.
Police were chastened by the 2005 shooting death of an innocent Brazilian electrician, mistaken by police marksmen for a suicide bomber, and sharply criticized over the death of a bystander amid protests at a 2009 Group of 20 summit. Demonstrators who marched against a hike in college tuition fees, and anti-monarchists who opposed April's royal wedding, have both complained in recent months that officers have used excessive force in containing their protests.
It meant that when disorder broke out in London on Aug. 6 — sparked by an initially peaceful protest over a rare fatal police shooting — the response appeared hesitant.
Officers avoided confrontation as a demonstration in the Tottenham district of north London spiraled into widespread lawlessness, and it was three days before police chiefs flooded the streets of Britain's capital with reinforcements.
"The big question is, when you step back from it, how appropriate is the old paradigm?" said Punch, also a policing expert attached to the London School of Economics. Like the Police Federation, which represents about 125,000 rank and file police, he believes a Royal Commission — the most rigorous form of British government inquiry — is needed to plot a way forward.
Unlike France and other European nations which have dedicated riot police, Britain relies on volunteer officers to abandon usual duties when disorder arises. Thousands of police from across Britain sped to London to help calm last week's disorder — a tactic that will come under strain as budgets are cut.
For Punch and others, one of the pressing issues is Britain's rare use of weapons, still its most visible sign of policing restraint.
In the Victorian era, London police had an armory of 5,000 swords, but the blades were kept blunted and officers warned they could be sacked if they drew the weapon.
Of Britain's current 144,000 police officers only 7,000 are authorized to carry a gun and almost never use them — firing on just six occasions between April 2009 and March 2010 according to latest available figures. By comparison, almost all police officers in the United States carry a handgun, with many authorized to use more powerful weapons.
Critics point out that criminals in Britain also rarely use firearms and that the country's murder rate remains low, with 642 homicides last year. Government statistics also show violent crime falling.
"If more officers were armed, there would have been shooting during last week's riots — and it was ugly enough as it was," said Clive Chamberlain, a police constable for 30 years and chairman of Dorset Police Federation. "Most officers believe that we have not reached that stage yet, but accept it is something that should be discussed."
Police departments in London, Birmingham, Manchester, Liverpool, Nottingham, Bristol and Gloucester — the main areas where riots broke out in England last week — confirmed to The Associated Press that no officers reported firing a weapon as they respond to the unrest last week.
Yet political leaders have criticized police handling of the riots. "The tactics they were using weren't working," Cameron said last week.
After a decade of expansion, Britain's police will share the pain of Cameron's deficit-shredding program of 81 billion pounds ($132 billion) worth of spending cuts over the next four years.
Timothy Brain, who was chief constable of Gloucestershire Police — which covers a vast swathe of western England — from 2001 until last year, has calculated that police will lose about 1.36 billion ($2.24 billion) in funding. He believes about 16,000 officers and a similar number of civilian support staff will lost their posts.
Bratton told the AP last week that Cameron is convinced that the aftermath of the riots — and looming cuts — make radical reforms to police, and to wider British society, inevitable. "This is a prime minister who has a clear idea of what he wants to do," Bratton said. "He sees this crisis as a way to bring change."
However, some scoff at the notion that Bratton can provide a template for the future of British law enforcement.
"Cameron is doing what a lot of senior managers do when they are dealing with a crisis, which is to call in a consultant," said Punch. "The idea that he is somehow going to bring the blueprint for better policing is insulting to senior members of the British police."
Bratton's approach emphasizes the importance of visible policing in local communities and the benefit of developing leadership ranks within police departments.
Cameron's critics say his austerity program and planned reforms to policing administration will undermine attempts to achieve any progress in both of those areas.
Brain said that over the last 10 years many British police forces have adopted tactics which showed huge success in Chicago, deploying officers into the heart of a community — sometimes with small offices in shopping malls — seeking to work with residents and shop keepers to prevent crimes.
Most officers fear those duties will be hit first, dismissing the government's claim that cuts will strike officers behind desks, but not those who patrol Britain's streets.
"It's about the quality of life issues — graffiti, vandalism, the crimes that seep into the heart of the community," Brain said. "These are the kind of areas where cuts will bring an erosion of police performance, not just community confidence."
Chamberlain, who has urged ministers to consult with ordinary police, said departments "are already struggling in our ability to match resources to the demand, as was demonstrated last week."
By next summer, Cameron hopes to have replaced appointed oversight boards which hire and fire police chiefs with a single elected commissioner for every police department in England and Wales.
Unlike in the U.S., police chiefs in Britain are not elected sheriffs, or appointed by elected city mayors.
Opponents fear the change will put meddling politicians in charge of policing tactics — and promote weakness and indecision among police chiefs.
Punch says those making key decisions will have "a political agenda, but no experience of policing" and fears it would undermine attempts to embrace Bratton's strategy of producing confident, accountable police leaders with the nerve to make the big calls.
Still, few expect the government to back down over its reforms — not least after Britain's tabloid phone hacking scandal triggered the resignation of two of London's most senior officers, including the city's police chief.
"This is a momentous time. I think the coincidence of the phone hacking and the riots means that the government will be able to see their reforms through," Brain said.
Most law enforcers believe the future holds "fewer government targets but many, many fewer police officers," Brain said. "We will simply see the police service overwhelmed."
Those who demand a more radical shift in style wonder if British police should reach further into the past, to the forerunners of modern officers who guarded London's ports in the late 18th Century armed with cutlasses and pistols.
During rioting last week in Nottingham, central England, officers doused flames as a police station was pelted with petrol bombs. In 1798, when a restive crowd attacked marine police on the banks of the River Thames — the constables charged the mob and fired pistols, killing five protesters in the process.
"Force was met with even greater force in times of unrest," said Neil Paterson, a retired officer who manages the London police department's historical collection.