UK newspaper wrongly announces Prince Phillip's death on final day of public engagements
On the day Prince Philip marked his final public engagement, the Daily Telegraph accidentally published an incomplete article online announcing the death of the Duke of Edinburgh.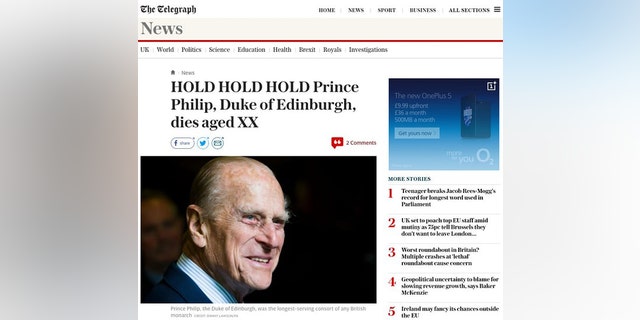 The full-length article, which has since been taken down, appeared on the newspaper's website on Wednesday after Prince Phillip, 96, was due to carry out his 22,219th solo engagement, the Guardian reported.
"The Duke of Edinburgh, the longest-serving consort to a monarch in British history, has died at the age of XX, Buckingham Palace has announced," the piece read.
"Prince Philip, whom the Queen described as her 'strength and stay' during her record-breaking reign, passed away XXXXXXX
FILL IN DETAILS"
For over 65 years, Prince Phillip has been the unwavering presence alongside Britain's longest-serving monarch, the consummate consort and royal representative.
On Wednesday the Duke of Edinburgh is set to meet Royal Marines who have completed a 1,664-mile trek to raise money for charity.
After that, he will still appear at Queen Elizabeth II's side — from time to time — as the 91-year-old monarch soldiers on.
Philip has given 5,496 speeches, written 14 books and gone on 637 solo visits overseas.
The palace said the retirement decision wasn't due to his health.
The Daily Telegraph's mishap is not the first time a newspaper has prematurely announced Prince Phillip's death. In May, the Sun made a similar error when the Duke announced his retirement. It was also swiftly removed.
In the meantime, the man known for his quips and gaffes has already been joking about his big retirement day.
"I'm discovering what it's like to be on your last legs," the 96-year-old Philip told celebrity chef Prue Leith at a recent palace event.
The Associated Press contributed to this report.