U.S. tourist among at least four dead after earthquake rattles southern Peru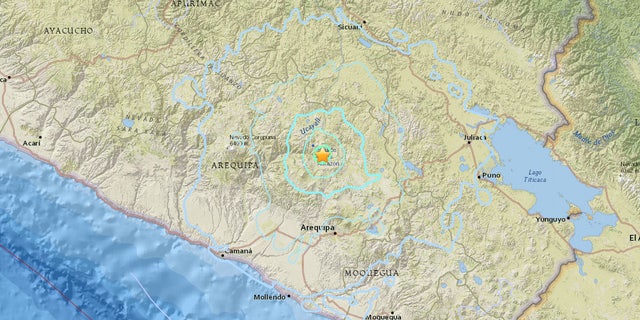 A U.S. tourist visiting Peru's picturesque Colca Valley was among the at least four people that died after a magnitude 5.4 earthquake hit the area. Some 30 people were injured, authorities said Monday.
According to the U.S. Geological Survey, the quake occurred at 9:48 p.m. local time Sunday outside the town of Chivay near the city of Arequipa, with an epicenter just 6 miles deep. Two aftershocks struck on Monday morning.
RPP radio and Peru's El Comercio newspaper identified the U.S. tourist as 56-year-old Valum Ken Edan – however, officials have not confirmed the identity of any of the deceased.
The local governor, Cipriano Llasa, told the Associated Press that the American died at the Eco Inn Valle del Colca in Yanque near Chivay, when part of the hotel's ceiling collapsed on him.
"His body is inside the hotel because the highways are blocked, and the prosecutor has not arrived," Llasa added. The AP called the hotel repeatedly, but the phone went unanswered.
Among the towns worst hit was Yanque, a rural village of adobe homes with some 1,200 residents.
The walls and roofs of dozens of houses collapsed in the quake, Llasa said. "A lot of irrigation canals are destroyed, too."
He said the only way to evacuate the injured was by helicopter.
Local mayor Anastasia Suyco told RPP that about 60 percent of buildings in the village had been destroyed.
"There are people who have been crushed by walls. The buildings here are rustic," she added.
A local resident, John Rivera, told RPP radio that the whole scene was "tragic."
"There were no lights, no beds. The electricity has got cut off. We still have water, but we don't know what will happen next," he added, according to AFP.
Yanque is an hour's drive from the famed condor-watching Colca Canyon, a popular destination for foreign tourists
Earthquakes in Peru are quite common, as the country lies on the so-called "Ring of Fire" – an arc of fault lines that circle the Pacific Basin and is prone to frequent quakes and volcanic eruptions.
Peru's last major earthquake, of magnitude 7.9, on Aug. 15, 2007, killed nearly 600 people in the coastal city of Pisco.
The Associated Press contributed to this report.
Like us on Facebook
Follow us on Twitter & Instagram