U.S. renews travel warning to Mexico as killings of Americans climb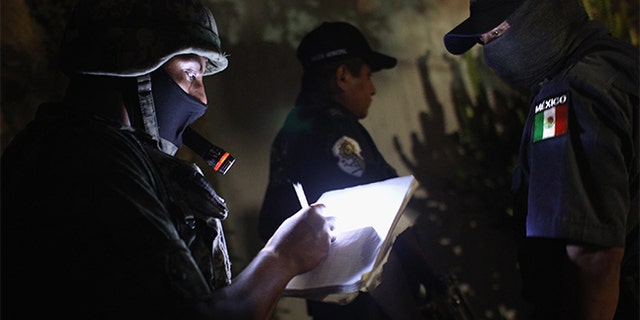 The U.S. State Department has issued a travel warning to all Americans planning on going to Mexico – renewing an expired travel ban issued in May of last year – as the latest figures show the number of murdered U.S. citizens south of the border has gone up.
The number of American citizens murdered in Mexico rose from 81 in 2013 to 100 in 2014, according to the U.S. government. Meantime, the FBI tells Fox News Latino, 241 Americans have been kidnapped in Mexico since 2013 through 2015; 73 Americans were kidnapped in Mexico in 2015 alone.
Citing threats to safety and security posed by organized criminal groups, the State Department says U.S. citizens have been the victims of violent crimes such as kidnapping, carjacking, and robbery in certain parts of Mexico.
Mexico's government continues their drug war against cartels, as evidenced by the recent headlines over Mexico's top drug lord, Joaquín "El Chapo" Guzmán, and his recent escape and recapture.
"The location and timing of future armed engagements is unpredictable," the warning says about gun battles between criminal organizations with Mexico authorities. The warning implores U.S. citizens to lower their personal profiles and avoid wearing jewelry or clothing that indicate wealth.
Despite the travel warnings, however, Mexico's tourism industry is booming.
Mexico ranked No. 9 among the world's top 10 most visited countries in 2015. More than 32 million tourists visited Mexico last year, an increase of nearly 10 percent from 2014, according to the United Nations World Travel Organization.
Millions of Americans visit Mexico each year – including more than 150,000 who cross the border every day, the State Department says. The Mexican government has dedicated substantial resources to protecting major tourist destinations, the State Department says, and generally these areas do not see the levels of drug-related violence and crime seen along the border or major drug trafficking routes.
This latest travel warning comes as Mexico's homicide rates continued to fall for the third year in a row. There were 27,213 murders in 2011 and 20,670 in 2014, according to Mexico's National Institute of Statistics and Geography.
Still, violence has increased in 2015 and it appears that the number of drug-related homicides will be higher than in 2014. May 2015 was the worst month of violence since October 2013. Experts and authorities say since President Enrique Peña Nieto took office, the cartels have fragmented, creating weaker cells but more chaos on the streets as they resort to kidnappings, extortion, and murder of innocent people in an attempt to gain power.