U.S. NATO Commander Doesn't Rule Out Al Qaeda Presence in Libyan Rebels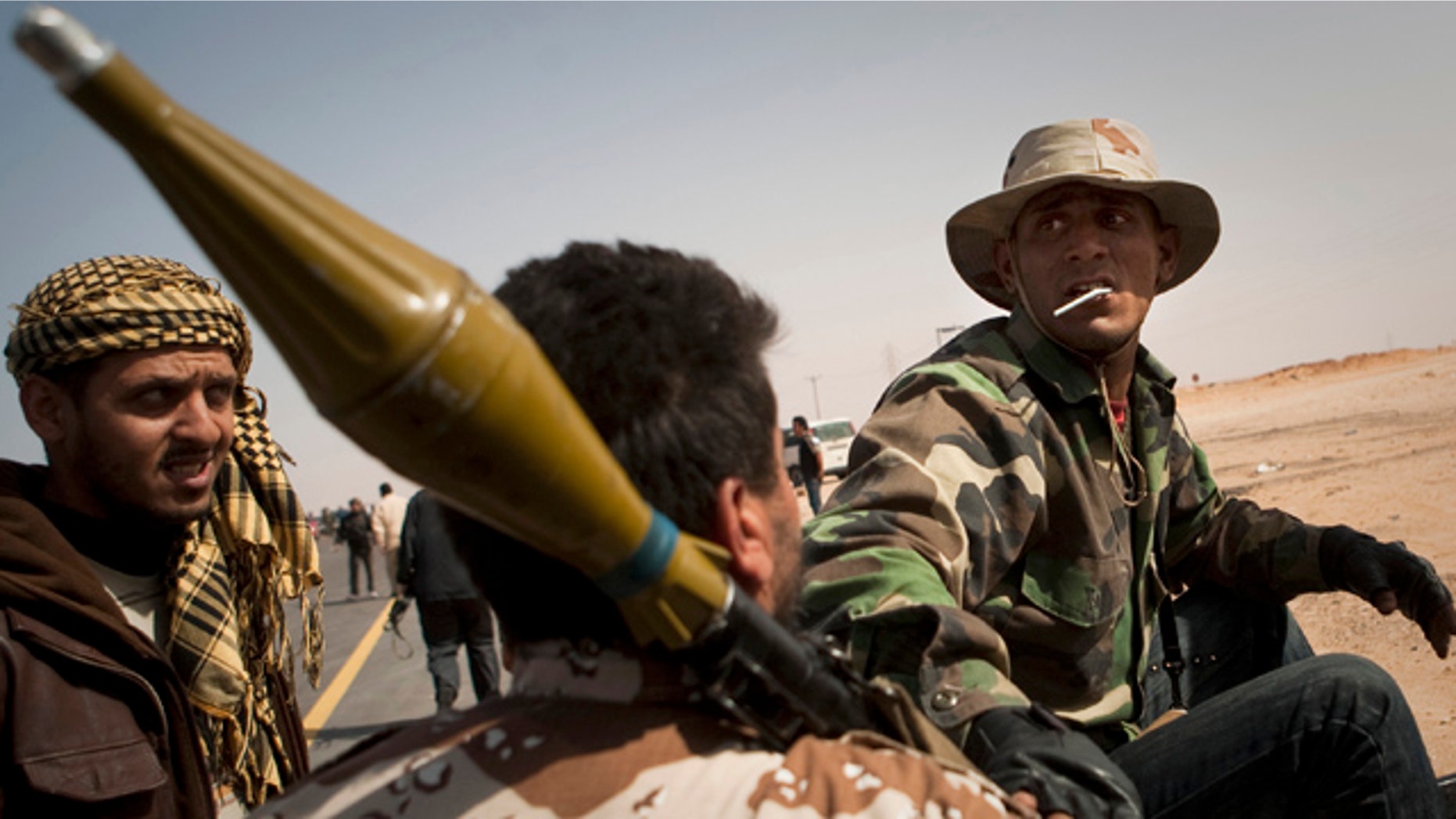 A U.S. NATO commander does not rule out an Al Qaeda presence in the Libya opposition against Muammar al-Qaddafi.
Adm. James Stavridis says that intelligence has shown "flickers" of potential Al Qaeda in opposition groups but that there is still no detailed picture of rebel groups.
"At this point, I don't have detail sufficient to say there is a significant Al Qaeda presence," Stavridis, who is NATO's Supreme Allied Commander, Europe, and also the commander of U.S. European Command, said during Senate testimony Tuesday.
Secretary of State Hillary Clinton said after an international conference in London about Libya's future that there is no specific information about rebels linked to the terror group, but that the U.S. is "getting to know" the opposition.
Stavridis also said during the Senate hearing on Libya that military operations have cost "hundreds of millions" so far.
A NATO spokesman tells Fox News that there will be no delay in transition in power from U.S. to NATO command after earlier reports there would be a 24-hour delay.
"There is absolutely no delay. We have always said the transition of this complex operation will take a matter of days and we are on track. There is no change of plans. NATO allies are transferring assets as we speak," the spokesman told Fox News.
U.S. Ambassador to the United Nations Susan Rice says the Obama administration has not ruled out arming Libyan rebels in their fight against Muammar al-Qaddafi.
"We have not made that decision, but we've not certainly ruled that out," she said on ABC's "Good Morning America."
Rice also reiterated the the principal goal is to protect civilians and establish a no-fly zone.
Clinton says the administration has yet to make a decision about arming opposition forces.
"We have not made any decision about arming the rebels or providing any arms transfers. There has been no need to discuss that at this point," she said after the conference in London.
Clinton also said that world leaders were looking for a "political resolution, which could include Qaddafi leaving the country."
Libyan government tanks and rockets blunted a rebel assault on Qaddafi's hometown of Sirte on Tuesday and drove back the ragtag army of irregulars, even as world leaders prepared to debate the country future in London.
Rockets and tank fire sent Libya's rebel volunteers in a panicked scramble away from the front lines, suggesting that the opposition is still no match for the superior firepower and organization of Qaddafi's forces, despite an international campaign of deadly airstrikes.
A U.N.-mandated no-fly zone and campaign of strikes by the U.S. and its allies helped rebel forces regain territory lost of the past week, when they were on the brink of defeat by government forces.
Tuesday's shelling and the undisciplined volunteers' disorganized flight in their pickup trucks, however, showed that the rebels' fundamental inability to counter Qaddafi's heavy weapons without extensive outside help.
The rebels remain woefully outgunned by Qaddafi's forces and it is unclear how they can take the stronghold of Sirte without further aggressive international air support.
NATO has insisted that it was seeking only to protect civilians and not to give air cover to an opposition march. But that line looked set to become even more blurred. The airstrikes are clearly the only way the rebels bent on overthrowing Qaddafi are going to continue their push to the capital.
Rebels made it to Nawfaliyah some 60 miles from Sirte on Monday, but judging by the location of Tuesday's bombardment, they have been driven back to the hamlet of Bin Jawwad, a few dozen miles to the east.
"Qaddafi's forces are firing from Wadi al-Ahmar, including grad rockets, artillery and mortars," said rebel fighter Adel Sirhani, referring to a strategic valley outside Sirte. "It's very intense."
In a scene reminiscent of the rebels' retreat last week, panicked volunteers jumped into their pickup trucks and attempted to speed away from the bombardment kicking up dust clouds and choking the narrow coastal highway in a mad scramble of vehicles.
Sirte is dominated by members of the Libyan leader's Gadhadhfa tribe. But many in another large tribe -- the Firjan -- are believed to resent his rule, and rebels are hoping to encourage them and other tribes there to help them.
"This is their last defensive line they will do everything to protect it," explained rebel fighter Twate Monsuri, 26. "It's not Qaddafi attacking us, he's just defending himself now."
Fighting in such a densely populated area is likely to complicate the rebels' advance and add to the ambiguity of the NATO-led campaign, authorized by a Security Council resolution to take all necessary measures to protect civilians.
Qaddafi is not on the defensive everywhere. His forces continued to besiege Misrata, the main rebel holdout in the west and Libya's third-largest city. Residents reported shelling by government tanks of residential areas. Eight people were killed in the shelling, according to a rebel spokesman.
The Associated Press contributed to this report.