U.S. Diplomat: Afghan Bombing Unlikely to Spark Sectarian War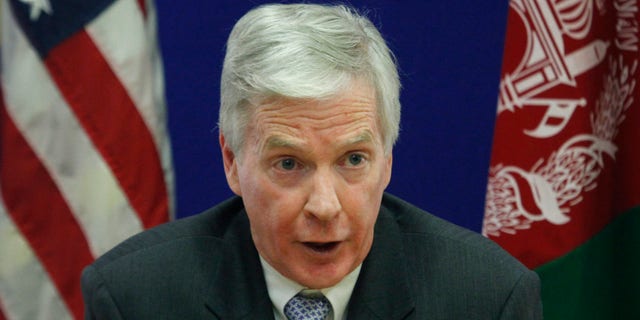 KABUL, Afghanistan – The U.S. ambassador to Afghanistan said Saturday that he does not think this week's deadly suicide bombing at a Shiite shrine in Kabul will spark a sectarian war between religious groups in the country.
In a briefing with reporters at the U.S. Embassy in Kabul, Ryan Crocker also said he believed that the attack was likely to have been planned in Pakistan.
"I do not see this turning into a sectarian conflict just looking at the reactions on the part of the Shia leadership, calling for calm," Crocker said.
He said that Tuesday's attack, which killed 56 people and wounded more than 160 others, might have been orchestrated by a consortium of militant groups outside the country.
"Virtually every significant attack I'm aware of — where I have gotten some information — either came out of tribal areas in Pakistan or (the southern Pakistani region of) Balochistan. There does indeed seem to be a pattern," he said.
Many in Afghanistan blame the Pakistani militant group Lashkar-e-Jhangvi for the attack, which occurred on the last day of Ashoura, a Shiite festival marking the seventh-century death of Imam Hussein, the Prophet Muhammad's grandson.
Crocker, who spent three years as U.S. ambassador to Pakistan, said he could not say authoritatively that the bombing was carried by Lashkar-e-Jhangvi.
He said that the group was weak, and he doubted that the group had any Afghan affiliate.
"They were a pretty seriously weakened organization when I was there (in Pakistan)," he said. "It could have been a consortium, but I don't think it was a consortium that was put together in this country."
There have been bombings at mosques and other religious sites in Afghanistan before, but this one was different because it was aimed at Shiites gathered to commemorate Ashoura. It was the first major sectarian attack in Afghanistan since the fall of the Taliban regime a decade ago.
Crocker noted that many Afghan leaders from various ethnic factions reacted by saying, "We're all Afghans together — Tajiks, Uzbeks, Pashtuns.'"
"I am struck by the reaction — the Afghan reaction — which is what makes me think that whoever the architects were — they don't have much Afghan support. I was really struck by the reaction by the palace, the president cutting his trip short, and then every single community saying 'We denounce this, this is an act of terrorism,'" he said.
Crocker said he did not know whether the Pakistan-based Haqqani network, which is affiliated with al-Qaida and the Taliban, was involved. The Haqqani network has been blamed on several previous attacks in the Afghan capital.
"As we have all seen, the Haqqanis have been the most lethal, the most effective in delivering ordnance on target, but I've got nothing that says they were a part of this," he said.
Violence continued across Afghanistan on Saturday with reports of five civilians killed in three separate explosions.
Three civilians died in a morning blast in the Khakrez district of Kandahar province in the south, said provincial spokesman Zalmai Ayubi. He said a four-wheel drive taxi in a rural area was struck by a roadside bomb.
Also in Kandahar, an Afghan man was killed when his motorcycle hit a road mine in neighboring Maiwand district.
In the north, a government transportation director was killed and 16 other people were wounded in a midday explosion in Kunduz, the capital of Kunduz province. Police spokesman Sarwar Hussini said a remote-controlled bomb planted on a bicycle was detonated as the official's car was passing.