U.S. Deports Mexican Man To Face Massacre Charges In Sinaloa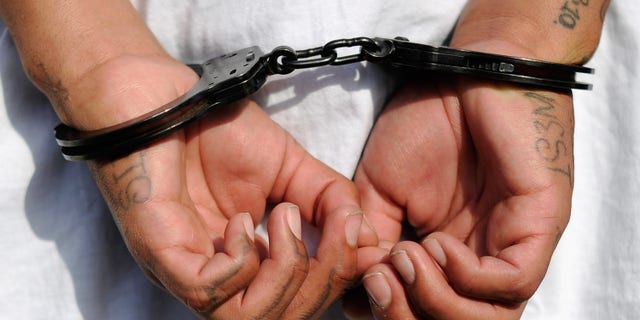 U.S. immigration authorities say a California man has been deported to face allegations that he participated in the slayings of eight Mexican municipal officials 13 years ago.
The man allegedly acted on behalf of orders from incarcerated Sinaloa Cartel leader, Joaquín "El Chapo" Guzmán.
Virginia Kice, a spokeswoman for U.S. Immigration and Customs Enforcement, said 54-year-old Genaro Olaguez was turned over to Mexican authorities at the San Ysidro border crossing Tuesday.
Olaguez's last name is also listed as Olaguez-Rendón. He was arrested in Sacramento in December on a warrant from Mexican officials alleging he helped kill a commissioner and seven other city officials in the state of Sinaloa, Mexico, in May 2000.
Immigration officials say Olaguez acknowledged entering the United States illegally in 2001.
He was released to immigration officials last week from a San Joaquin County jail, where he was serving time on marijuana-related charges.
Olaguez began a new life in the U.S. posing as a churchgoing landscaper and father of four who was renting a two-bedroom home in North Sacramento. But Olaguez couldn't keep his purported criminal past behind him.
He was arrested last year on the marijuana charges, which involved four grow houses and hundreds of plants, along with gun charges and theft of electricity, according to published reports. San Joaquin County officials said they had no knowledge that he was wanted in connection with the Sinaloa massacre and that Olaguez was released from jail while awaiting trial because of overcrowding.
Olaguez was eventually put in jail in San Joaquin County for 365 days before being handed over to ICE on Feb. 21. and placed in removal proceedings based on his aggravated felony conviction and illegal status
"People who commit crimes in other countries shouldn't think they can escape justice by fleeing to the United States – this is not a refuge," said ICE spokeswoman Lori K. Haley, according to the Sacramento Bee.
The Mexican government praised the effort by U.S. authorities and called the deportation of Olaguez a major win in the fight against the country's drug cartels.
"This is definitely great news," Carlos González Gutiérrez, the consul general of Mexico in Sacramento. "The fight against organized crime is a transnational challenge, and this case shows how collaboration is key for the success of these efforts."
The Associated Press contributed to this report.
Follow us on twitter.com/foxnewslatino
Like us at facebook.com/foxnewslatino