U.S., Cuba hold migration talks in Havana, no new agreements announced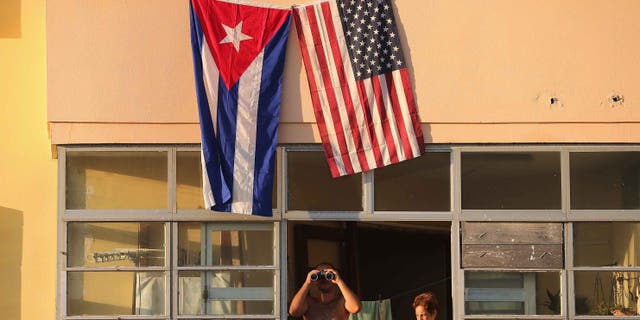 NEWYou can now listen to Fox News articles!
HAVANA (AP) – U.S. and Cuban officials held another round of talks on migration issues in Havana on Thursday to further discussions last held in December, but no new agreements were announced to advance the diplomatic thaw begun a year and a half ago by presidents Barack Obama and Raul Castro.
The U.S. State Department said in a statement that the talks covered bilateral migratory accords, migration trends on sea and by land, as well as cooperation between medical officials in the two countries and between the U.S. Coast Guard and the Cuban Border Guard.
"The U.S. delegation restated its position that the Government of Cuba should accept the return of Cuban nationals who have been removed from the United States," it said.
A Cuban Foreign Ministry statement said its delegation again voiced its "high concern" about U.S. rules that let islanders who reach American soil stay, and also a U.S. policy of granting entry to Cuban medical professionals on overseas missions.
Havana complains that the policies encourage Cubans to make risky sea and land voyages and also feed crimes such as people smuggling and migration fraud. It called the doctors program "reprehensible" and said it hurts health initiatives in third countries where they are working.
In recent months thousands of Cuban migrants have been stranded in countries such as Costa Rica, Panama and Ecuador after borders were closed to them, cutting off their overland route to the United States. Many have been airlifted to Mexico, where they travel to the U.S. border and are admitted. This week, Ecuador deported to Cuba 122 islanders who had been protesting there to demand humanitarian visas to Mexico.
Washington and Havana have repeatedly sat down to discuss both matters of mutual interest and points of contention in the months since they announced they would move toward normalizing ties after over 50 years of open hostility. Last year they opened embassies in each other's capitals.
The Cuban Foreign Ministry said both sides at the talks acknowledged "positive results" of two meetings held earlier this year in Miami. U.S. and Cuban delegations also held regulatory meetings this week in Havana.
Like us on Facebook
Follow us on Twitter & Instagram